A Question of Sport
Line 63:
Line 63:

Probably the most dramatic 'Mystery Guest' appearance was the one in which Jonathan Davies was bungee-jumping! Another memorable one was Norman Whiteside playing a would-be army recruit, who was taking a load of flak from the sergeant for being late and unshaven on parade - among other things!

Probably the most dramatic 'Mystery Guest' appearance was the one in which Jonathan Davies was bungee-jumping! Another memorable one was Norman Whiteside playing a would-be army recruit, who was taking a load of flak from the sergeant for being late and unshaven on parade - among other things!

+
+

== Trivia ==

== Trivia ==
---
Revision as of 22:56, 8 July 2008
Host
David Vine (1970-78, 1989)
David Coleman (1979-1997)
Bill Beaumont (2 programmes, 1996)
Sue Barker (1997-)
Co-hosts
Regular team captains: Cliff Morgan (1970-75), Henry Cooper (1970-79), Freddie Trueman (1976-77), Brendan Foster (1977-79), Emlyn Hughes (1979-81; 1984-88), Gareth Edwards (1979-81), Bill Beaumont (1982-96), Willie Carson (1982-83), Ian Botham (1989-96), Ally McCoist (1996-2007), John Parrott (1996-2002), Frankie Dettori (2002-04), Matt Dawson (2004-present), Shane Warne (2007) and Phil Tufnell (2008-present).
There have also been several stand-in captains over the years. They have included: John Barnes; Jonathan Davies; Will Carling; Sam Torrance; David Ginola, Jamie Redknapp and Ricky Hatton. Ally McCoist and John Parrott were both also stand-in captains before becoming regulars.
Broadcast
BBC North West for BBC 1, 5 January 1970 to present

Synopsis
The eternal question: What Happens Next? This show has been going for years and years and years. And maybe longer than that. Past captains (or David Coleman at least) have hosted the show and it has been regular prime-time viewing. And yes, it's about sport. Each team is made up of three people, two famous sporting guests and a captain who is usually more portly.
The traditional show invariably began with the Picture Round. 12 boxes each hide a picture of a famous sportsperson in an interesting pose (usually, Media Studies fans, a long shot but always an action shot). Each person would score two points if they got it correct, but if they don't know it's passed over to the opposition for a bonus. Every member of both teams gets a go. Generally there is two pictures for every sport represented by the team members that week.
Then comes the Specialised Subject round. Each person would get a collage of clips based on their sport, and they would be asked to name two specific people in it. The captains, however, would get a completely random selection of sports, being the captains and everything.
Then comes the Home and Away round, a round devoted to everybody's third-favourite Australian soap. Ha, not really! Actually each guest in turn chooses to answer either a question on their own sport ("home") for one point or a general question ("away") for two. The team captains usually don't get the choice and have to take an "away" question.
Mystery Personality next, and a short piece of film of a famous personality filmed from odd positions and situations. They are carefully filmed so as never to completely give away who they are (or not, as was the case when they decided to show a full facial shot of Katharine Merry). Two points for a correct answer and one point if they don't know and the opposition gets it.
Then, it's What Happens Next? A piece of film starts and at an inopportune moment it stops and the contestants need to guess... well, you get the idea. Usually with some outrageous (i.e.wrong) guesses, you can be sure that hilarity will ensue when it turns out that a little cat runs onto the pitch or somesuch. Every week.
The One Minute Round, nine questions, nine points and sixty seconds. A nice mixture of trivia, picture questions and the famous "These three people all have surnames connected with snowball fighting" question. Completely random, completely pointless but good fun nonetheless.
Finally, the Picture Round reprise, the six remaining pictures are taken one at a time a la Round One and the same points apply and at the end of the round, whoever wins, wins and whoever loses loses, predictably enough.
For no particularly good reason except to annoy us, the 1998 season reordered the rounds, and dropped the One Minute Round in favour of an On the Buzzer end game that Ally McCoist tended to dominate. Not a particularly inspired decision, but not a disaster either.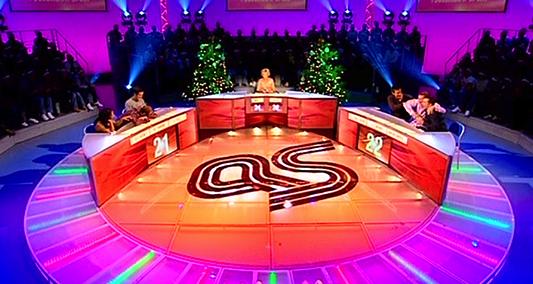 The lighting technicians celebrate the festive season in their own inimitable fashion
If you like sport, you'll probably like this and if you don't you probably won't. It's certainly pleasant enough, and in latter years (with the ever-popular They Think it's All Over breathing down its neck) the emphasis on the banter between players has been increased. Also, Sue Barker has introduced a certain glamour and middle-class street-cred that doddery David Coleman never really had. It should be said, however, that Coleman was an excellent host, always managing to keep a very good balance between the quiz itself and the general joviality of the show, especially with his own infectious enthusiasm (and his many colourful jumpers!) and many would have been sorry to see him go when he finally left the programme. In addition, later series have proved, and some themed specials (either tied to topical sporting events such as Euro 2000, or featuring TV commentators, referees, sport-loving comedians, that kind of thing) have buffed up the ingenuity somewhat.
You will have seen most of this before but, given the age of the show, it's not inconceivable that it invented most of it...
Key moments
Princess Anne joined the quiz for its 200th edition. The soon-to-be Princess Royal was qualified to know a bit about sport, being a former Olympic equestrian and BBC Sports Personality of the Year herself. Over 19 million people saw it, naturally enough the show's highest ever audience. However, the ratings didn't last as Channel 4 launched a new series of Treasure Hunt the following week. The Princess Anne show came only 2 weeks after Emlyn Hughes had mistaken her for the jockey John Reid in a picture round!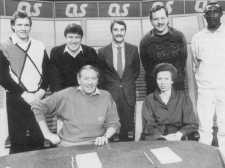 Front row: David Coleman (host) with Anne, the Princess Royal. Back row: John Rutherford, Emlyn Hughes, Nigel Mansell, Bill Beaumont, Linford Christie.
On one show Ian Woosnam correctly identified the mystery guest (who was posing as an angler in an all-covering plastic mac) as golfer Greg Norman - because by a lucky chance he actually happened to have witnessed the film being shot in the grounds of the Gleneagles hotel!
Probably the most dramatic 'Mystery Guest' appearance was the one in which Jonathan Davies was bungee-jumping! Another memorable one was Norman Whiteside playing a would-be army recruit, who was taking a load of flak from the sergeant for being late and unshaven on parade - among other things!
Just before an edition of the show in the early 1990's, the BBC announcer amusingly stated, "BBC now stands for Botham, Beaumont, Coleman, as it's time for 'A Question of Sport!'" Very much a 'why didn't I think of that before?!' moment!
Trivia
The captains on the very first show were Henry Cooper and Cliff Morgan and the guests were Lillian Board, Tom Finney, George Best and Ray Illingworth. The host was David Vine.
Surprisingly, Bill Beaumont hosted the programme in David Coleman's absence for 2 editions in 1996, and Will Carling stood in as team captain. The show was as enjoyable as ever, but, on the whole, Bill was better as a captain! Sue Barker had also hosted the programme in Coleman's absence around Christmas 1996, which was almost certainly the main reason why she succeeded him from the next series onwards. In addition, Coleman had had quite a long period of absence around early 1989, and, during this time, David Vine returned to host the programme.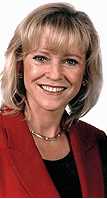 Current host, Sue Barker
Alongside a BBC video release in 1999, 30 Years of A Question of Sport, a one-hour documentary to celebrate its 35th anniversary was made - A Question of Sport - The Golden Years. It was dedicated to Emlyn Hughes, aka 'Crazy Horse', who died in 2004.
Inventor
Nick Hunter, also the first producer.
Theme music
There has been at least three pieces of music, to our reckoning. The very first which no one remembers is called Tio Pepe. Then there was the bouncy "A Question of Sport, bom bom bom bom". Now it's a fairly anonymous piece of keyboard janging music which has got remixed several times, including samba of all things. The latterday theme is by Richie Close. The current mix is by Andrew Harris.
Merchandise

30 Years Of A Question Of Sport
Video
by Michael Adley
Several Question of Sport board games are also available.
Web links
Very good official site, with games and features about the show.
See also
Feedback