Absolute Cobblers
Line 20:
Line 20:

== Inventor ==

== Inventor ==

-

Unknown

+

== Pictures ==

== Pictures ==
---
Revision as of 11:50, 11 June 2006
Host
Sean Meo
Co-hosts
Wynnie La Freak
Broadcast
Challenge TV, 1999
Synopsis
Show where the host read out something and the panellists had to decide whether it was true, or, yes, 'absolute cobblers'. Then they'd throw the question out to the audience to see what they thought, with the chance of winning things in the process.
Inventor
Based on an Australian format, if memory serves.
Pictures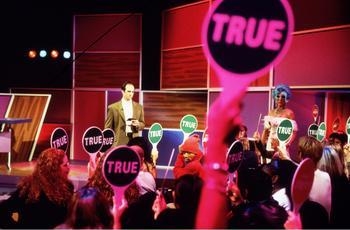 Picture 3
- We'd have to assume that's the audience telling host Meo that he's talking absolute cobblers.
Feedback