Are You Smarter Than a 10 Year Old?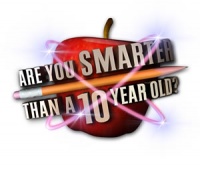 Host
Primetime: Noel Edmonds
Daytime:
Dick & Dom (2007-9)
Damian Williams (2009-10)
Co-hosts
Voiceover: Dave Kelly
Broadcast
Mark Burnett Productions and Twofour for Sky One, 7 October 2007 to 24 April 2010 (Primetime: 66 episodes in 3 series)
12 November 2007 to 26 February 2010 (Daytime: 120 episodes in 3 series)
Synopsis
Answering questions intended for ten year olds. That should be easy for grown-ups. Shouldn't it? Not if this programme is anything to go by, as contestants line-up to pit their wits against questions drawn from the National Curriculum in the hope of winning up to £250,000.
Each show begins with Noel or Dick and Dom introducing the 'class'. Five lively, uniformed 10 year olds come running down a corridor on the set, and sit behind a desk bearing their name. (The desks are arranged on two tiers, rather like the celebrities' desks on Blankety Blank). A rather less active grown-up is then introduced, and then stands behind a podium adjacent to the desks. After a brief conversation with the host, the grown-up must pick one of the 'class' to help them (cue lots of arm-waving and eager shrieks of "Me, me, me!") The chosen 10 year old stands behind a second podium next to the grown-up.
The Game
The grown-up has ten different categories from which to choose, two in each age group from Age 6 up to Age 10. The contestant can confer with the 10 year old they have chosen as to which subject(s) they like, but it is their choice. The chosen question appears on a screen, and the grown-up is then allowed some time to consider their answer. During this period, their chosen 10 year old writes their answer down, and 'locks in', by means of pressing a button on their podium.
In the event the grown-up doesn't know the answer to a question, they have two cheats at their disposal. Firstly they have a 'peek'. This means they can see the answer their chosen 10 year old has written, but are not obliged to play that answer. The second cheat is the 'copy'. Here the grown-up can see their chosen 10 year old's answer and is obliged to play it. They can only use each of these cheats once.
Once the grown-up is ready, they must verbally state their answer, and also 'lock in'. Their answer cannot be changed after they have locked in. The answer to the question is revealed, and if correct, the grown-up can then choose another category and play on, with each question answered correctly being worth increasingly more money. However once a 10 year old has answered two questions, they return to the class, and it's back to another mad frenzy of arm-waving and shouting as a new 10 year old is chosen.
If the grown-up has answered incorrectly, they can remain in the game only if their chosen 10 year old has answered correctly. This is their 'save'. This can only be used once. In the event the grown-up answers incorrectly, having already used their 'save', they leave the game, and depending on how much money they have accumulated so far, they lose some or all of that money.
If at any point the grown-up does not know the answer to a question and does not wish the play on, they can choose to leave the game and take with them whatever money they have accumulated so far. To do this they simply say they would like to go, and 'lock in'.
The Final
Assuming they manage to answer the tenth question correctly, the grown-up then has the chance to go for a final question in the hope of winning the jackpot of £250,000. Although they are told which category the question comes from, if they decide to go for it, they must get it right, with no backing out if they don't like the question, and they must answer it alone, with no help from the class. In the daytime version, the rules are the same, however the jackpot is only £50,000.
The Confession
At whatever point the grown-up leaves the game, they must make what the hosts claim to be TV's most embarrassing confession. This involves the grown-up looking towards a camera, stating,
'My name is (full name), and I am not smarter than a ten year old'.
Only in the event the grown-up answers all their questions correctly, and walks off with the jackpot are they allowed to leave without saying the phrase.
Top Marks?
So that's how it works, but is it any good? Well, yes it is. Are You Smarter? is one of those programmes that the whole family can join in with. Young and old alike can shout answers at the screen as the show progresses. The programme remains light throughout, making it perfect for its early evening slot. Also, despite having their own presenting styles, both Noel Edmonds and Dick & Dom's versions work well, meaning the daytime version is just as watchable as its primetime counterpart. Overall the programme represents a well-produced hour of family entertainment.
Changes in Series 3
Following several successful series, including a series of celebrity specials, the format was tweaked, and the title was altered in 2009 to Are You Smarter Than YOUR 10 Year Old?. In this variation, one or more of the 10 year olds in the class was known to the contestant. For example if the contestant was a teacher, the five 10 year olds may be from the class they normally teach, or one of the contestants 10 year old family members may bring along four of their school friends to form the class. In addition, the jackpot in the primetime version was increased to £500,000. At the same time as these changes, Dick & Dom were succeeded as hosts of the daytime version of the show by newcomer Damian Williams.
Trivia
Having a ten year old standing by ready to help you out is no guarantee of winning. In one episode, two consecutive contestants went home with nothing as a result of getting a question wrong – and the 10 year old beside them also getting it wrong.
The kids usually make a lively entry en masse, throwing balls around (complete with mocked-up sounds of breaking glass), but occasionally there have been different styles of entry that have proved highly memorable. On one such occasion, one boy, Kieran, walked in, looking decidedly bored and weary, then pressed a bell - and his four 'classmates' emerged from cubicles. Equally amusing was when a girl appeared wearing a wizard's hat and waved a wand, Harry Potter-style, and the other kids were 'magicked' into view.
Louis, a 10 year old from the first series previously appeared with his family and Myleene Klass on Hider in the House in 2007.
One of the children from series 2, named Sion, has also appeared opposite Helena Bonham Carter in the film Enid, in Torchwood as (spoiler!) one of the sacrificed children, and provides voices for characters in Cbeebies' Waybuloo. Another, Alice, played Courtney Mitchell in EastEnders in 2016.
One episode with Noel Edmonds was filmed in 3D, and was broadcast on Sky's 3D service on 5 October 2010, making it the UK's first 3D game show.
Inventor
Mark Burnett
Merchandise
Are You Smarter Than a 10 Year Old LCD game
Are You Smarter Than a 10 Year Old desk calendar 2010
Are You Smarter Than A Ten Year Old? (board game)
Web links
10 year old pupil Katie Bilsborough's fan site
Bother's Bar's feature on the US original, Are You Smarter Than a 5th Grader?.
Pictures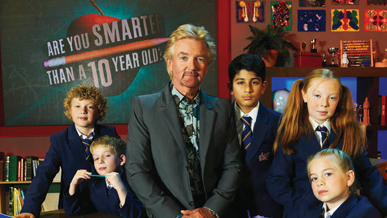 Noel with a bunch of knowitalls.
Feedback