Are You an Egghead?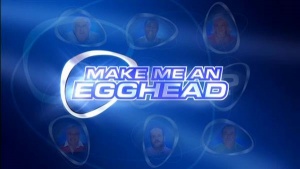 Host
Dermot Murnaghan (2008-09)
Jeremy Vine (2016)
Broadcast
12 Yard for BBC Two, 20 October 2008 to 23 November 2009 (62 episodes in 2 series)
as Make Me an Egghead: 12 Yard for BBC Two, 22 August to 23 September 2016 (25 episodes in 1 series)
Synopsis
Contest to find another know-it-all to join the Eggheads team on a rotating basis. Two individuals compete in each programme and the game is played along similar lines to the parent show, each round being three multiple-choice questions. The winner of each round gets to select an Egghead to join their team for the final general knowledge round, which is the extended five-questions-each version. The Eggheads are used as lifelines (though the word itself isn't used) and can be consulted once each.
The questions feel more difficult (or at least, more consistently difficult) than in Eggheads itself, and ironically enough, there's actually a stronger feeling of intellectual combat between two individuals in this spin-off than there has ever been in the parent show. Unfortunately it's let down by the pace, which is as slow as ever. We were also a little disappointed that 12 Yard couldn't get more veteran quiz champs to compete, as this looked like it had the potential to be a major brain-of-brains contest along the lines of Grand Slam or The People's Quiz. Although a lot of the contestants have been on Mastermind, University Challenge, Fifteen-to-One and the like, there aren't that many big winners or regular contestants, perhaps because the prize is surely something of a poisoned chalice which is probably going to ruin your chances of getting on to other quiz shows.
Make Me an Egghead
The series came back in 2016, split into separate contests for men and women. Twenty heats alternated between the men's and women's contests.
As the heats were only 30 minutes long, they played just three rounds to select Eggheads for the final. That final round was the abbreviated format, three questions each.
After they'd won, the daily winner got two minutes of quick-fire questions. Their score is one point for each right answer in this two-minute drill, plus three points for each round won in the main game.
Only the top four in each contest returned for the semi-finals - the other six winners were eliminated from contention. These semi-finals followed the same rules as Are You an Egghead - 45-minute shows, five rounds, all the Eggheads are available to consult.
The men's and women's contests joined for one final match. Each finalist picked a subject for a three-question shootout. The winner of each subject was given three points in the general knowledge final. With one point for each answer, the first to ten points won.
Champions
2008: Barry Simmons
2009: Pat Gibson
2016: Steve Cooke and Beth Webster
Catchphrases
"Don't put all your Eggheads in one basket!" - which is so cheesy, even Dermot can't say it without sounding embarrassed.
After going through the rules for the final round, Dermot also asks "Do you understand?". He's taking tips from Nick Ross, it would seem.
"You've proved that winning comes as naturally to you as it does to our Eggheads, and you're one step closer to joining our quiz Goliaths." Jeremy's scripted line at the end of every daily final.
Trivia
Beth Webster, who won in 2016, appeared on Mastermind under her maiden name, Beth Maclure.
Web links
Are You an Egghead? programme page
Make Me an Egghead programme page
Are You an Egghead? Wikipedia entry
Make Me an Egghead Wikipedia entry
See also
Weaver's Week reviews: Are You an Egghead? (2008), and summary and result of Make Me an Egghead (2016)
Feedback