Artist of the Year
Line 81:
Line 81:

|2021 (Landscape)

|2021 (Landscape)

|Ophelia Redpath

|Ophelia Redpath

+
+
+
+
+
+
+
+
+
+
+
+
+

|}

|}

-

-

Two standalone celebrity Portrait editions were also made in 2019, won by [[Vic Reeves|Jim Moir]] and Fenella Woolgar.

== Theme music ==

== Theme music ==
---
Revision as of 20:29, 12 November 2021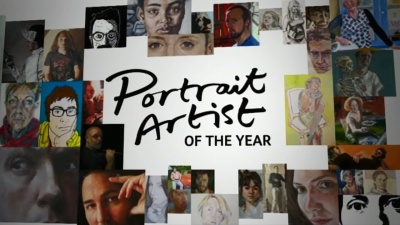 Host
Joan Bakewell (2013-2020, 2021-)
Frank Skinner (2013-2018)
Stephen Mangan (2018-)
Co-hosts
Judges: Kate Bryan, Tai-Shan Schierenberg, Kathleen Soriano
Broadcast
Storyvault Films for Sky Arts, 5 November 2013 to present
Portrait Artist of the Week, Facebook Live and Sky Arts, 2020 to present
Synopsis
In the latest union of high and low culture, art critic Joan Bakewell and football fan Frank Skinner combine forces to find the best portrait painter in the country. The prize is £10,000, and a commission to paint the author Hilary Mantel for permanent display in the British Library.
Heats took place in a travelling marquee, with competitors depicting various celebrities who could sit still for four hours. Any non-digital 2D medium was acceptable, and indeed a lot of the interest lay in having contestants working in (for example) pastels, watercolour and pencil all up against each other. The best artist in each heat went to Paris for mentoring, before producing a piece for the final.
After two years in the portrait shape, Sky rotated the canvas to produce Landscape Artist of the Year. Competitions ran in both orientations from 2017. Channel 4 bought the series in 2019, as part of a wider content-sharing deal with Sky.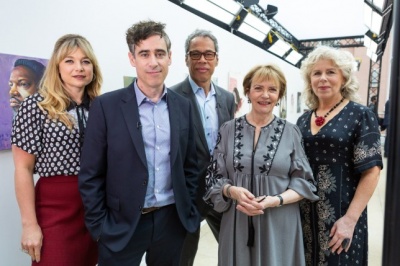 An excellent likeness of Kate Bryan, Stephen Mangan, Tai Shan Schierenberg, Joan Bakewell and Kathleen Soriano
The 2020 COVID-19 pandemic resulted in a few changes, with that year's second Portrait series being socially-distanced, audience-free, and with Stephen Mangan hosting solo as 87-year-old Joan Bakewell was shielding. Bakewell fronted the audience-participation spin-off Portrait Artist of the Week (a sitting livestreamed on Facebook with Sky Arts joining in for the last hour, after which viewers can submit their handiwork with a winner declared the following week) from home, and was still able to join Mangan for the Landscape series as it is, naturally, filmed almost entirely out of doors.
Trivia
Kate Bryan was absent from three episodes of the 2019 Landscape series (two heats and the semi-final) due to the birth of her daughter Juno, whom she brought along to the final, to much ooh-ing and aww-ing.
When Gareth Reid won the 2017 Portrait series, the prize was a commission to paint Graham Norton for the National Gallery of Ireland. As part of his preparation, Reid watched Norton's episode of Who Do You Think You Are?, from which he discovered that they had a shared ancestor and were in fact third cousins. Norton noted that his family wasn't one where there were typically lots and lots of siblings, making the coincidence even more surprising.
Champions
2013 (Portrait)
Nick Lord
2014 (Portrait)
Christian Hook
2015 (Landscape)
Nerine Tassie
2016 (Landscape)
Richard Allen
2017 (Portrait)
Gareth Reid
2017 (Landscape)
Tom Voyce
2018 (Portrait)
Samira Addo
2018 (Landscape)
Jen Gash
2019 (Portrait)
Duncan Shoosmith
2019 (Landscape)
Fujiko Rose
2020 (Portrait, March)
Christabel Blackburn
2020 (Portrait, December)
Curtis Holder
2021 (Landscape)
Ophelia Redpath
Celebrity editions
2019 (Portrait)
Jim Moir
2019 (Portrait)
Fenella Woolgar
2021 (Landscape)
Tomasz Schafernaker
Theme music
Nick Harvey
Web links
The show publicised the hashtags #PAOTY or #LAOTY as appropriate.
Feedback