Backdate
Line 6:
Line 6:

== Broadcast ==

== Broadcast ==

-

Channel 4, 1995-6

+

Channel 4, 1995-6

</div>

</div>

Line 35:
Line 35:

[[Category:History]]

[[Category:History]]

[[Category:Nostalgia]]

[[Category:Nostalgia]]

+
---
Revision as of 12:33, 26 June 2006
Host
Valerie Singleton
Broadcast
Action Time for Channel 4, 1995-6
Synopsis
Veteran children's TV presenter Singleton quizzes three contestants on a range of history questions. The three rounds are basically variations on a theme. Correct answers allow contestants to take a number between 1 and 99 from a board, three such numbers of a valid format (e.g. 2/11/89) creating a "dateline".
The twist comes when the contestants are asked a bonus question about that very date - this must have involved thousands of questions to be made for the programme.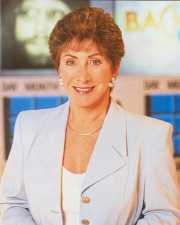 Valerie Singleton in front of the game board (today featuring the face of John Lennon).
The highest scoring player gets to make a "date with a decade" of their choosing (e.g. the 1970s) by matching nine events with the years in which they occurred. Matching all nine means they get an opportunity to name the subsequently revealed photograph of a famous person from that decade.
A novel twist and a stern, rather humourless presenter do not make a good format alone, and the show fizzled out after two series.
Inventor
Created by Trish Kinane and Mike Adams.
Web links
Feedback