Bad Language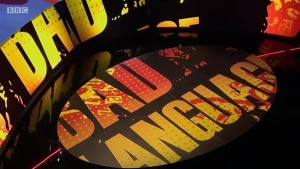 Host
Richard Herring (2013)
Patrick Kielty (2016)
Co-hosts
Team captains:
Des Clarke and Keith Farnan (2013)
Paul Sinha and Susan Calman (2016)
Broadcast
BBC Radio Ulster, 13 July to 17 August 2013 (6 episodes in 1 series)
Green Inc for BBC One Northern Ireland, 22 January to 26 February 2016 (6 episodes in 1 series)
Synopsis
Comedians go head to head to prove who has the superior command of the English language.
On the radio version, they compete in five rounds to see who is the best in understanding dialect, slang and colloquialisms from Scotland, Ireland and the rest of the English speaking world. They celebrate language, invent new terms and even offer some surprising facts along the way.
The television version confined itself to three rounds: identify the quote, suggest entries for The Banned List, and predict what the other team will say when describing an unusual object.
The cultural references were a very gentle subtext: captains Paul Sinha (England) and Susan Calman (Scotland) brought their perspectives, the Northern Ireland comedians brought something different. In the gap, we might see the glimmer of an exchange, of people using language to see each other anew.
But mostly, we were laughing. The show has enough local colour to be a Northern Ireland production, but enough appeal to be shown and heard nationally without change.
Trivia
The radio series was a co-production between Radio Ulster and Radio Scotland. The Scottish station played programmes from 5 to 11 August 2013, so listeners to the east heard the final two programmes before those in Ireland.
The television programme came two-and-a-half years later. It was recorded at the Waterfront Studio in Belfast.
Web links
British Comedy Guide entry (radio)
See also
Feedback