Bargain Hunt
(→Broadcast: Production company added)

Line 8:
Line 8:

== Broadcast ==

== Broadcast ==

-

BBC 1, 13 March 2000 to present (daytime)

+

BBC 1, 13 March 2000 to present (daytime)

2002-5 (primetime)

2002-5 (primetime)
---
Revision as of 15:56, 3 March 2007
Host
Tim Wonnacott (daytime)
Broadcast
BBC West for BBC 1, 13 March 2000 to present (daytime)
2002-5 (primetime)
Synopsis
Essentially, a cheap version of The Great Antiques Hunt that they could do on a daily basis.
Two teams of two are given £200 to spend at an antiques fair to buy several items which they would later sell. An expert is assigned to each team to help them decide what to buy. The teams each have one hour to buy whatever they wanted with the money.
One week later the items purchased are sold in a real auction. The items are auctioned and the team which makes the most profit (or, more likely, the least loss) is the winner. If the team actually makes a profit then they get to keep whatever profit they made.
It's not startlingly original, but Dickinson is very watchable. It performed well enough against ITV's This Morning (sans Richard and Judy) to be promoted into a prime-time slot in 2002, the main difference being an increased buying budget of £500. Whereupon Tim Wonnacott took over the daytime version, and actually has settled in rather well. The primetime version pretty much ran its course and was axed in April 2005 but the daytime version continues.
Format tweaks
The show has gone through numerous variations, viz celebrity editions, live editions, live celebrity editions and a couple of US specials. The primetime show and the 1-hour live daytime editions have incorporated phone-in competitions (the removal of which conveniently allows for the statutory ad-breaks when the shows are repeated on UKTV Antiques & Gardening or whatever it's called.)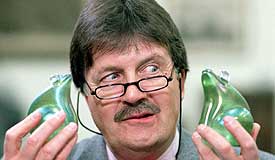 Tim Wonnacott handles a lovely pair... dunno what of, but they're worth at least £3.
After Tim Wonnacott took over the daytime version, the longer (45-minute and 1-hour) shows included a "swap" option whereby each team could swap one of their three chosen items for another selected by their expert. There is now even a trophy (of sorts), namely a golden (oak) gavel on a stand, if the team makes a profit on all their items, and the initial budget has been upped to a dizzying £300 for each team, so now they can lose even more money than before. Most recently, the "swap" has been changed to a "bonus item", which the teams can choose - on the spot, during the auction - to add to their original three, having seen how well (or, more likely, how badly) their original items fared.
Key moments
The - all too frequent - shows where both teams lose a packet on their 'bargains'.
On one celebrity special for Children in Need a boxed 007 Aston Martin toy car made a profit over £2000 after being bought for £2.
Catchphrases
Wonnacott version: "Come back for some more Bargain Hunt, yes? Yes!"
Web links
For more information about Bargain Hunt, including how the programme is made, visit bbc.co.uk/antiques
Bargain Hunt/David Dickinson fan site
Merchandise
Feedback