Beat the Clock
Line 2:
Line 2:

== Host ==

== Host ==

-

[[Bruce Forsyth]]

+
+
+

[[Bruce Forsyth]]

+
+
+
+
+
+
+

 

+
+

 

+
+

 

+
+

 

+

== Broadcast ==

== Broadcast ==

-

Various, mainly 1950s to 1970s

+

Various , to

+

 

+
+

 

+

</div>

</div>

Line 14:
Line 34:

Prizes and money could be won by couples who had been plucked out of the audience moments before. Games involved a mixture of skill, co-ordination, and luck, and were usually cobbled together by cheap props such as balloons, musical instruments or magnetic letters.

Prizes and money could be won by couples who had been plucked out of the audience moments before. Games involved a mixture of skill, co-ordination, and luck, and were usually cobbled together by cheap props such as balloons, musical instruments or magnetic letters.

+
+
+
+

== Pictures ==

== Pictures ==

Line 22:
Line 46:

[[Category:Stunts and Dares]]

[[Category:Stunts and Dares]]

+
---
Revision as of 13:20, 4 January 2007
Host
Main hosts of Sunday Night at the London Palladium: Tommy Trinder (1955-8) Bruce Forsyth (1958-60) Don Arrol (1960-1) Bruce Forsyth (again, 1961-2) Norman Vaughan (1962-5) Jimmy Tarbuck (1965-7) Jim Dale (1973-4) Bruce Forsyth (again, 2000)
Guest hosts included: Max Bygraves, Dickie Henderson, Bob Monkhouse, Hughie Green, Alfred Marks, Robert Morley, Arthur Haynes, Tommy Steele, Maria Perego, David Blair, Roger Moore, Lorne Greene, Fess Parker, Des O'Connor, Dave Allen, Lena Horne.
Mike Smith (in a different 1987 format)
Co-hosts
Hostesses included: Angela Bracewell
Broadcast
Various companies, 25th September 1955 to 1967
ITV, 1973-4?
ITV, 2000
Synopsis
Game format mainly associated with old-fashioned variety shows such as Sunday Night at the London Palladium.
Prizes and money could be won by couples who had been plucked out of the audience moments before. Games involved a mixture of skill, co-ordination, and luck, and were usually cobbled together by cheap props such as balloons, musical instruments or magnetic letters.
Catchphrases
"Can you come back next week" - asked of the winners, if they could return as champions on the next show.
Pictures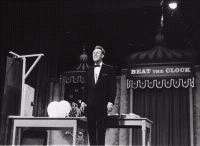 Picture 1
-
Bruce Forsyth
addresses his audience. A giant clock is behind the curtains in the background.
Feedback