Beat the Clock
Line 1:
Line 1:

<div class="box">

<div class="box">

+

== Host ==

== Host ==

-

'''Main hosts of ''Sunday Night at the London Palladium'':'''<br>

Tommy Trinder (1955-8)<br>

Tommy Trinder (1955-8)<br>

-

[[Bruce Forsyth]] (1958-60)<br>

+

[[Bruce Forsyth]] (1958-60)<br>

Don Arrol (1960-1)<br>

Don Arrol (1960-1)<br>

-

[[Bruce Forsyth]] (again, 1961-2)<br>

[[Norman Vaughan]] (1962-5)<br>

[[Norman Vaughan]] (1962-5)<br>

[[Jimmy Tarbuck]] (1965-7)<br>

[[Jimmy Tarbuck]] (1965-7)<br>

Jim Dale (1973-4)<br>

Jim Dale (1973-4)<br>

-

[[Bruce Forsyth]] (again, 2000)

+

[[]] ()

Guest hosts included: Max Bygraves, Dickie Henderson, [[Bob Monkhouse]], [[Hughie Green]], Alfred Marks, Robert Morley, Arthur Haynes, Tommy Steele, Maria Perego, David Blair, Roger Moore, Lorne Greene, Fess Parker, [[Des O'Connor]], Dave Allen, Lena Horne.

Guest hosts included: Max Bygraves, Dickie Henderson, [[Bob Monkhouse]], [[Hughie Green]], Alfred Marks, Robert Morley, Arthur Haynes, Tommy Steele, Maria Perego, David Blair, Roger Moore, Lorne Greene, Fess Parker, [[Des O'Connor]], Dave Allen, Lena Horne.

-

-

[[Mike Smith]] (part of ''Seaside Special '87'')

== Co-hosts ==

== Co-hosts ==

Line 22:
Line 19:

== Broadcast ==

== Broadcast ==

-

ATV London for ITV, 25 September 1955 to 1967

+

ATV London for ITV, 25 September 1955 to 1967

-

ITV, 1973-4?

+

ITV, 1973

-

BBC1, 1987

+

BBC1, 1987

-

LWT for ITV, 2000

+

LWT for ITV, 2000

</div>

</div>

Line 56:
Line 53:

[[Category:Stunts and Dares]]

[[Category:Stunts and Dares]]

[[Category:Returning Host]]

[[Category:Returning Host]]

+

[[Category:LWT Productions]]

[[Category:LWT Productions]]
---
Revision as of 02:36, 21 June 2016
Host
Tommy Trinder (1955-8)
Bruce Forsyth (1958-60, 1961-2, 2000)
Don Arrol (1960-1)
Norman Vaughan (1962-5)
Jimmy Tarbuck (1965-7)
Jim Dale (1973-4)
Mike Smith (1987)
Guest hosts included: Max Bygraves, Dickie Henderson, Bob Monkhouse, Hughie Green, Alfred Marks, Robert Morley, Arthur Haynes, Tommy Steele, Maria Perego, David Blair, Roger Moore, Lorne Greene, Fess Parker, Des O'Connor, Dave Allen, Lena Horne.
Co-hosts
Hostesses included: Angela Bracewell
Broadcast
ATV London for ITV, 25 September 1955 to 1967 (as part of Sunday Night at the London Palladium)
Thames for ITV, 28 October 1973 to 7 April 1974 (15 episodes in 1 series, as part of Sunday Night at the London Palladium)
BBC1, 25 July to 29 August 1987 (6 episodes in 1 series, as part of Seaside Special '87)
LWT for ITV, 21 April to 19 May 2000 (4 episodes in 1 series + 2 unaired, as part of Tonight at the London Palladium)
Synopsis
Game format which became arguably the most famous ingredient of the long-running variety show Sunday Night at the London Palladium.
Prizes and money could be won by couples who had been plucked out of the audience moments before. Games involved a mixture of skill, co-ordination, and luck, and were usually cobbled together by cheap props such as balloons, musical instruments or magnetic letters.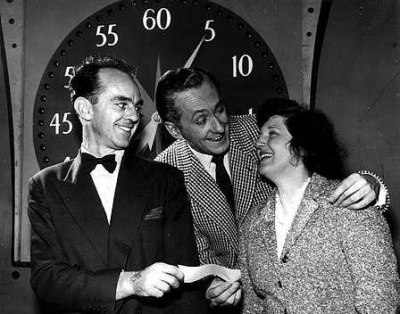 Mr and Mrs Clements receive their £1000 jackpot prize from Hughie Green
The BBC brought back their 1970s variety format Seaside Special in 1987 giving, erm, Seaside Special '87 broadcast each week from Jersey. Mike Smith hosted the proceedings which included Beat the Clock as part of the menu.
Inventor
Traditionally credited as a Goodson-Todman show, possibly devised by Phillip Hindin.
Catchphrases
"Can you come back next week?" - asked of the winners, if they could return as champions on the next show.
Pictures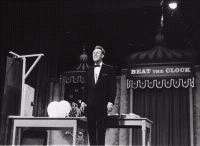 Bruce Forsyth addresses his audience. A giant clock is behind the curtains in the background.
Feedback