Beat the Clock
Host
Broadcast
Various, mainly 1950s to 1970s
Synopsis
Game format mainly associated with old-fashioned variety shows such as Sunday Night at the London Palladium.
Prizes and money could be won by couples who had been plucked out of the audience moments before. Games involved a mixture of skill, co-ordination, and luck, and were usually cobbled together by cheap props such as balloons, musical instruments or magnetic letters.
Pictures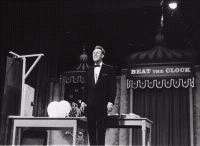 Picture 1
-
Bruce Forsyth
addresses his audience. A giant clock is behind the curtains in the background.
Feedback