Big Brother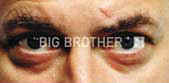 Host
Marcus Bentley (voiceover)
Davina McCall (launch/eviction host)
Co-hosts
Dermot O'Leary (Big Brother's Little Brother) 2001-2008, (Big Brother's Big Brain) 2006-2007
Russell Brand (Big Brother's E4rum / Big Brother's Big Mouth) 2004-2006
James Corden and Mathew Horne (Big Brother's Big Mouth) 2008
George Lamb (Big Brother's Little Brother) 2008-
Zezi Ifore (Big Brother's Little Brother) 2008
Jack Whitehall (Big Brother's Big Mouth) 2009
Broadcast
Endemol UK for Channel 4, 18 July 2000 to 12 August 2005
Brighter Pictures (an Endemol company) for Channel 4, 18 May 2006 to present
Celebrity Big Brother 2001-2, 2005-7, 2009
Teen Big Brother 2003
Big Brother: Celebrity Hijack 3rd - 28th January 2008
Synopsis
Well, it's been a hit all around the world (namely: Holland) and now it's our turn to play the voyeur. Ooh-er! In George Orwell's book Nineteen Eighty-Four, Big Brother was watching you. Now, you can watch Big Brother. Deeply profound, we know.
We also know that this isn't a format for everybody. We fully understand that there are people who will find it dull - after all it is just ten people in a house, but at the same time it is absolutely compelling.
So then, what does the game entail? Ten people are locked away in a specially designed prefab hut in a secret location (for which read: the 3 Mills studio complex in Bow, East London) without any contact with the outside world. Every week, each member of the house nominates the two people they would most like evicted. The two or more people with the most votes are then offered to the public who decide who they want to kick out in a phone vote.
The big thing is the eviction - and they need to be cruel to be kind because the last person left at the end of the series wins £70,000. The two potential evictees are told their fate by Big Brother before the public get three days to vote on the decision. It's this in-between time that causes a lot of the tension between the housemates - you've been nominated because you were liked the least, not a pleasant feeling is it? And what if you win the public vote and are allowed to stay? You've still been shown a yellow card. Nasty but gripping stuff.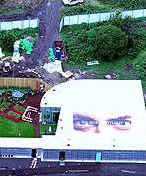 Exterior shot of the Big Brother House
Of course, there's a bit more to it than that. The biggest thing is that the entire house is wired up with cameras and microphones, so there's nowhere to hide, and we can hear everything you're saying and see everything - and we mean everything - you're doing. The only place of privacy is the diary room, where there's a camera in a soundproof environment for you to speak your mind to Big Brother. To our disappointment, Big Brother wasn't a particular voice - it was just the dull, drab tones of whichever director was on duty at the time. You'd think that if you spend £4 million on a series, you'd spend a few extra thousand on actors or even a computerised speech simulator.
Most days there is a half-hour or hour show dedicated to what's happened. More interestingly, you can (quite literally) catch them at it by logging into the website. You can only log into 5 cameras from the web-site, but given that they are all in prominent places you can still see everything you want to see. In a good move, you can't log onto the shower and toilet ones - but that hasn't stopped them being used in the telly show. This isn't a show for prudes really as anything interesting that does happen will get shown.
Each week Big Brother sets the housemates a task to occupy them. Every day someone stays in the Big Brother House, they earn £1.50. All this goes into a pot at the end of the week in order to buy food and supplies - although the players have to use some of that cash to make and bake their own bread and grow their own vegetables (the chickens are included for free). Most of it goes on alcohol though, but as our guinea pigs learnt to their cost, perhaps they should spend more on proper supplies like food and toilet paper (which they hilariously ran out of during the first week and Big Brother wouldn't give them any more) and less on getting drunk - indeed the new tactic is to buy cider because it's cheap. Anyway, for each task the housemates can gamble up to 50% of their pocket money. If they win then they'll get more money in the next weeks, if they lose then they lose the cash.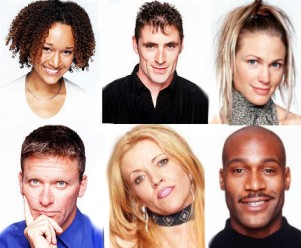 Some of the Big Brother lab rats: (clockwise, from top-left) Melanie, Thomas, Sada, Darren, Caroline, Nicholas
The first task was to have everybody make a clay bowl and mug and if more than three objects cracked when they were cooked then they lost the challenge. To help them, they were given a potters wheel and lots of clay. Sadly, they failed but because Big Brother isn't cruel (much), they gave the players a giant crate of fruit as a consolation prize - makes a difference from a Blankety Blank chequebook and pen - but sadly the cash was gone. Big Brother also showed his (her? its?) human sides by allowing treats such as the video of one participant's child's birthday to be the shown, and for another participant to receive champers and their choice of board game for their birthday.
It has to be said that, in their infinite wisdom, the producers have chosen an odd crowd of people. None of them are particularly old, and therefore haven't experienced very much. This is not so much a microcosm, more a zoo where only the more curious mutations of the human species have been cooped up. Of what they have experienced, nearly all of it revolves around the bizarre, rather than anything particularly worthy - although, to be fair, as the series trundles on this is becoming less so.
The website of the TV show tries to re-create the emotionless technological style of the show. In some ways it's very good, because you can keep up to date with all the latest news and spy on the housemates (assuming you can get the web cam applet to work). However, you can't help feeling that the project has done the web sponsor more harm than good - at one point it took up to a day to register for the site, the text was repeating itself in certain places, and it was possible for the site to make your browser crash. Still, it looks nice.
As per usual in programmes these days, there's a hardcore dance theme-tune, courtesy of Paul Oakenfold, which was also released as part of a Big Brother album. Annoyingly, the links between clips of VT are bolted together by the worst squeaky white-noise effect you've ever heard.
We also wonder whether the whole package fits together. At the beginning, we have a documentary. A few shows in and now we get added commentary from psychological experts. And when the evictions start, we get live talk shows with Davina McCall. And then there's that Internet page too.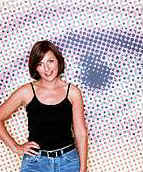 Host (for some of the time, anyway) Davina McCall
So then, this isn't so much a game show as a 'democratic televised competition (TM)' that relies on having the right mix of players. Whether the mix is correct is somewhat open to debate - younger viewers will lap it up, but in general audience terms it's hard to see where the attraction will be. In the original Holland show, one of the finalists was a man significantly older than the other 20/30-something participants - why did Channel 4 decide to exclude an older age group from the proceedings? Even the girls themselves in the UK version mentioned this.
Good? Fun? Interesting? Yes. Scary and voyeuristic? Just a little bit. It's a game show and soap opera in one... but not as we know it.
Key moments
The whole "Nasty Nick" saga in BB1.
New housemates always getting evicted at the earliest opportunity.
A prolonged row in the 2007 celebrity series sparked a national debate on racism, and resulted in Channel 4 having to apologise on air. Official adjudication.
If you're looking for the match reports that used to be here, they're now on their own page.
Inventor
Based on Jan de Mol's Dutch show.
Champions
2000 Craig Phillips
2001 Brian Dowling
2002 Kate Lawler
2003 Cameron Stout
2004 Nadia Almada
2005 Anthony Hutton
2006 Pete Bennett
2007 Brian Belo
2008 Rachel Rice
Celebrity Big Brother
2001 Jack Dee
2002 Mark Owen
2005 Mark Berry (a.k.a. Bez from Manchester band The Happy Mondays)
2006 Chantelle Houghton (member of girl group Kandyfloss-with-a-K * )
2007 Shilpa Shetty
Teen Big Brother: The Experiment
2003 Paul Brennan
Big Brother: Celebrity Hijack
2008 John Loughton
*Or so she would have you believe. Chantelle was not a celebrity at all, but was put into the house anyway under orders to pretend to be a celebrity, and in so doing, earn celebrity status (do you see?). The real celebrities in the house didn't spot the bluff, and in a task ranked her more famous than two of her own, so Chantelle was allowed to remain in the house and went on to win the series.
Theme music
"Big Brother UK TV Theme" by Paul Oakenfold and Andy Gray working under the name ElementFour. Despite the somewhat prosaic title, it was a pretty big hit single back in 2000, reaching number 4 in the charts in September. A Big Brother album is also available (see below).
The original opening titles. The titles were adjusted each week according to how many housemates remained
Trivia
Perhaps unsurprisingly, the 2002 final got Channel 4's biggest non-film audience ever, with ten million viewers tuning in to see Kate Lawler become the first female winner.
When John de Mol was creating the original Big Brother in The Netherlands, it went under the codename The Golden Cage. This title wasn't deemed suitable for the final show, but it has resurfaced as a similar but open ended show (involving contestants living like millionaires but with little contact with the outside world, contestants stay on until they leave on their own free will, last one standing wins the mansion and a huge cash sum) which began in The Netherlands in 2006 and is being sold around the world.
Merchandise

Big Brother - the Unseen Story
Book
Also The Offical Unseen Story (tie-in book for series 2)
Inside Big Brother (tie-in book for series 3)
Big Brother 4: Up Close And Personal (tie-in book for series 4)
Big Brother 6 (tie-in book)
Big Brother: The Inside Story (written by former contestants)

Big Brother - the Album
Double CD
- includes the famous theme music
PC game
The Babe's Bible - book co-written with Sada Walkington (former BB contestant)
How to be a Right Bastard - book by Nick Bateman (former BB contestant)
Billion Dollar Game - book by Peter Bazalgette. An insider's view of the development of the show from its initial conception to the screen.
See also
Detailed reviews of the first two series
Weaver's Week reports:
BB2: Week 1 | Week 2 | Week 3 | Week 4 | Week 7 | Week 8 | Week 9 | Week 10 | Analysis
BB3: Week 1 | Week 2 | Week 3 | Week 4 | Week 5 | Week 6 | Week 7 | Week 8 | Week 9 | Postscript
BB4: Week 1 | Week 2 | Week 3 | Week 4 | Week 5 | Week 6 | Week 7 | Week 8 | Week 9
BB5: Week 1 | Week 2 | Week 3 | Week 4 | Week 5 | Week 6 | Week 7 | Week 8 | Week 9 | Postscript
BB6 (end-of-series analysis)
BB7 (end-of-series analysis)
Celebrity BB: Series 1 | Series 2: Part 1 | Part 2 | Series 3

Book reviews: Dean O'Loughlin (2004) | Narinder Kaur (2007)
Web links
Off The Telly's Big Brother reviews
Feedback