Big Brother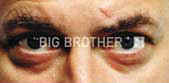 Host
Davina McCall (2000-10)
Brian Dowling (2011-)
Co-hosts
Voiceover: Marcus Bentley
E4 coverage (Big Brother's Little Brother):
Dermot O'Leary (2001-8) with Natalie Casey (early shows 2001)
George Lamb (2008-10) with Zezi Ifore (early shows 2008) and Emma Willis (2010)
E4 coverage (Big Brother's E4rum/Big Brother's Big Mouth):
Russell Brand (2004-6)
Davina McCall (2009-10)
E4 coverage (Celebrity Big Brother's Big Mouth):
James Corden and Mathew Horne (2008)
Jack Whitehall (2009)
Web coverage (Celebrity Big Brother's Big i): Emma Willis (2010)
5* coverage (Big Brother's Bit on the Side):
Emma Willis (2011-) (weekdays), Alice Levine and Jamie East (2011-) (weekends)
Guest Voiceover: Dave Lamb (2010)
Other spin-offs:
Teen Big Brother: Dermot O'Leary (2003)
Big Brother Panto: Jeff Brazier (2004-5)
Big Brother's Big Brain: Dermot O'Leary (2006-7)
Big Brother: On The Couch: Davina McCall (2007)
Big Brother: Celebrity Hijack: Dermot O'Leary (2008)
Big Brother: Dermot's Last Supper: Dermot O'Leary (2010)
Davina's Big Send Off: George Lamb (2010)
Broadcast
Endemol UK for Channel 4, 18 July 2000 to 12 August 2005
Brighter Pictures (an Endemol company) for Channel 4, 18 May 2006 to 4 September 2009
Remarkable Television (an Endemol company) for Channel 4, 9 June 2010 to 24 August 2010
Initial (an Endemol company) for Channel 5, 9 September 2011 to present
Celebrity Big Brother:
Endemol UK for Channel 4, 9 March 2001 to 23 January 2005 (2001 eviction shows and final on BBC One)
Brighter Pictures (an Endemol company) for Channel 4, 5 January 2006 to 23 January 2009
Remarkable Television (an Endemol company) for Channel 4, 3 January 2010 to 29 January 2010
Initial (an Endemol company) for Channel 5, 18 August 2011 to present
Other versions:
Teen Big Brother Channel 4, 13 to 17 October 2003
Big Brother Panto E4, 20 December 2004 to 5 January 2005
Big Brother: Celebrity Hijack E4, 3 to 28 January 2008
Ultimate Big Brother Channel 4, 24 August to 10 September 2010
Synopsis
Well, it's been a hit all around the world (namely: Holland) and now it's our turn to play the voyeur. Ooh-er! In George Orwell's book Nineteen Eighty-Four, Big Brother was watching you. Now, you can watch Big Brother. Deeply profound, we know.
We also know that this isn't a format for everybody. We fully understand that there are people who will find it dull - after all it is just ten people in a house, but at the same time it is absolutely compelling.
So then, what does the game entail? Ten people are locked away in a specially designed prefab hut in a secret location (for which read: the 3 Mills studio complex in Bow, East London) without any contact with the outside world. Every week, each member of the house nominates the two people they would most like evicted. The two or more people with the most votes are then offered to the public who decide who they want to kick out in a phone vote.
The big thing is the eviction - and they need to be cruel to be kind because the last person left at the end of the series wins £70,000. The two potential evictees are told their fate by Big Brother before the public get three days to vote on the decision. It's this in-between time that causes a lot of the tension between the housemates - you've been nominated because you were liked the least, not a pleasant feeling is it? And what if you win the public vote and are allowed to stay? You've still been shown a yellow card. Nasty but gripping stuff.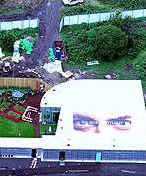 Exterior shot of the Big Brother House
Of course, there's a bit more to it than that. The biggest thing is that the entire house is wired up with cameras and microphones, so there's nowhere to hide, and we can hear everything you're saying and see everything - and we mean everything - you're doing. The only place of privacy is the diary room, where there's a camera in a soundproof environment for you to speak your mind to Big Brother. To our disappointment, Big Brother wasn't a particular voice - it was just the dull, drab tones of whichever director was on duty at the time. You'd think that if you spend £4 million on a series, you'd spend a few extra thousand on actors or even a computerised speech simulator.
Most days there is a half-hour or hour show dedicated to what's happened. More interestingly, you can (quite literally) catch them at it by logging into the website. You can only log into 5 cameras from the web-site, but given that they are all in prominent places you can still see everything you want to see. In a good move, you can't log onto the shower and toilet ones - but that hasn't stopped them being used in the telly show. This isn't a show for prudes really as anything interesting that does happen will get shown.
Each week Big Brother sets the housemates a task to occupy them. Every day someone stays in the Big Brother House, they earn £1.50. All this goes into a pot at the end of the week in order to buy food and supplies - although the players have to use some of that cash to make and bake their own bread and grow their own vegetables (the chickens are included for free). Most of it goes on alcohol though, but as our guinea pigs learnt to their cost, perhaps they should spend more on proper supplies like food and toilet paper (which they hilariously ran out of during the first week and Big Brother wouldn't give them any more) and less on getting drunk - indeed the new tactic is to buy cider because it's cheap. Anyway, for each task the housemates can gamble up to 50% of their pocket money. If they win then they'll get more money in the next weeks, if they lose then they lose the cash.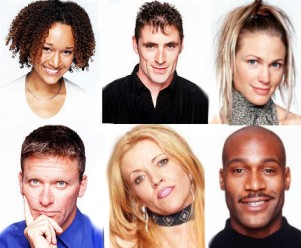 Some of the Big Brother lab rats: (clockwise, from top-left) Melanie, Thomas, Sada, Darren, Caroline, Nicholas
The first task was to have everybody make a clay bowl and mug and if more than three objects cracked when they were cooked then they lost the challenge. To help them, they were given a potters wheel and lots of clay. Sadly, they failed but because Big Brother isn't cruel (much), they gave the players a giant crate of fruit as a consolation prize - makes a difference from a Blankety Blank chequebook and pen - but sadly the cash was gone. Big Brother also showed his (her? its?) human sides by allowing treats such as the video of one participant's child's birthday to be the shown, and for another participant to receive champers and their choice of board game for their birthday.
It has to be said that, in their infinite wisdom, the producers have chosen an odd crowd of people. None of them are particularly old, and therefore haven't experienced very much. This is not so much a microcosm, more a zoo where only the more curious mutations of the human species have been cooped up. Of what they have experienced, nearly all of it revolves around the bizarre, rather than anything particularly worthy - although, to be fair, as the series trundles on this is becoming less so.
The website of the TV show tries to re-create the emotionless technological style of the show. In some ways it's very good, because you can keep up to date with all the latest news and spy on the housemates (assuming you can get the web cam applet to work). However, you can't help feeling that the project has done the web sponsor more harm than good - at one point it took up to a day to register for the site, the text was repeating itself in certain places, and it was possible for the site to make your browser crash. Still, it looks nice.
As per usual in programmes these days, there's a hardcore dance theme-tune, courtesy of Paul Oakenfold, which was also released as part of a Big Brother album. Annoyingly, the links between clips of VT are bolted together by the worst squeaky white-noise effect you've ever heard.
We also wonder whether the whole package fits together. At the beginning, we have a documentary. A few shows in and now we get added commentary from psychological experts. And when the evictions start, we get live talk shows with Davina McCall. And then there's that Internet page too.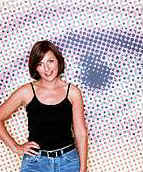 Host (for some of the time, anyway) Davina McCall
So then, this isn't so much a game show as a 'democratic televised competition (TM)' that relies on having the right mix of players. Whether the mix is correct is somewhat open to debate - younger viewers will lap it up, but in general audience terms it's hard to see where the attraction will be. In the original Holland show, one of the finalists was a man significantly older than the other 20/30-something participants - why did Channel 4 decide to exclude an older age group from the proceedings? Even the girls themselves in the UK version mentioned this.
Good? Fun? Interesting? Yes. Scary and voyeuristic? Just a little bit. It's a game show and soap opera in one... but not as we know it.
Big Brother: The Rise and Fall
After being rejected out-of-hand by Sky 1, and turned down after a little thought by ITV, Big Brother had been commissioned for a nine-week run in 2000. This debut series had a slow start, but grew through word-of-mouth, cemented by the Nasty Nick incident, to turn into a major hit for Channel 4. It attracted an audience of young people, and an audience that didn't watch much other television. After the run was over, series producer Conrad Green encapsulated the tension at the heart of the show:
"I as a producer can only intervene a certain amount; the people in the house can determine their fate only to a certain extent; and the audience controls things, but not completely. There's this strange triangle of control which makes people think they participate in it much more."
The series was renewed for 2001, giving Brian Dowling his first sniff of fame. Digital viewers were able to follow the show in far greater detail, with live streaming for much of the day on new channel E4. Big Brother's Little Brother also launched in 2001, propelling Dermot O'Leary towards megastardom.
The site at Three Mills only had planning permission for two years, and the show moved to a more permanent building in the Elstree studios from 2002. Endemol entered into a four-year contract with Channel 4, and that summer's edition would see the highest ratings, from the live first-night broadcast showing contestants entering the house. 2002's big idea was The Divide, splitting the contestants into Rich and Poor sides for half the run. Ten million people saw Kate Lawler win the series, but Jade Goody turned into the greatest star.
2003's series had a "back-to-basics" ethos, putting normal people in a less abnormal setting. Jon Tickle made a career out of his time on the show, and Cameron Stout's innocence charmed the viewers. Viewing figures were down on 2002. The series has retrospectively been dubbed "a bit boring", because it didn't have the bold characters and plot twists of the previous year. Channel 4's board of directors began to get a little uneasy about Big Brother during 2003, but worried that if they let it go, someone else would pick it up, and they needed the steady income. Or they liked Linda Papadopoulos's popular psychology.
For 2004, the producers quite deliberately set out to be "evil", with a set designed to be claustrophobic and intimidatory, to encourage pantomime villains and larger-than-life heroes. The atmosphere deteriorated quickly, resulting in a mass brawl during the third week. Security guards intervened, police were called, and all present would eventually be interviewed as part of a criminal investigation. If the housemates had been ceded more of Conrad Green's triangle in 2003, the producers were now doing all they could to influence the outcome. The final result was a clear victory for Nadia Almada, and ratings had increased slightly from the previous year, perhaps helped by the new digital spin-off EForum (renamed Big Brother's Big Mouth from January 2005.)
Two Big Brother spin-off series were made. Channel 4's education department shot Teen Big Brother: The Experiment during summer 2003. The intention was to explore topics in social education, such as methods of learning, and to debate matters like religion and gender stereotypes. In addition to airings in the morning schools' slot, the programmes were re-edited and shown as part of E4's evening schedule. The series is best remembered for the sex act between two of the competitors. The competitors voted for their own winner, Paul Brennan. A number of contestants from the first five series of Big Brother took part in a Big Brother Pantomime over Christmas 2004, a piece of filler for E4 that did not find a winner.
A short series of Celebrity Big Brother had taken place in March 2001, promoting the Comic Relief charity and won by comedian Jack Dee. Another Celebrity series was held in November 2002, won by pop singer Mark Owen. The latter series gave Les Dennis positive publicity after his well-publicised personal difficulties, and contestants Sue Perkins and Goldie would meet many years later on Maestro. Celebrity Big Brother became an annual fixture from January 2005, won that year by Bez from the Happy Mondays. The producers failed to ferment rows between Brigitte Nielsen and her former mother-in-law Jackie Stallone, and the abiding memory was of Germaine Greer walking out and criticising the production staff.
Channel 4 signed a new contract for 2005's summer show, allowing it to run for an eleventh week. The contestants were given various silly things to do, the show never quite caught the public's imagination, and was won by Anthony Hutton, who described himself as a Big Brother superfan. The new contract called for longer runs of both Celebrity and standard Big Brother; 2006's celebrity series ran for three weeks, and was won by fake celebrity Chantelle Houghton; the iconic moment was George Galloway's impression of a cat.
That year's public series ran for a full three months, and Pete Bennett proved most popular. It was a fractious series: two contestants withdrew before the first week was up, and someone who had been repeatedly rejected by the producers won a Golden Ticket promotion. Viewing figures were level with the previous year, helped by Channel 4 scheduling episodes against the football world cup and back-to-back with editions of Deal or No Deal. Towards the end of the game, four contestants who had been previously evicted were allowed back into the game; the premium-rate telephone regulator would later find that Channel 4 had misled viewers. Fans and the tabloid press began to turn against the programme, with the producers accused in some quarters of concentrating on what would make the most interesting show for the next night and ignoring the greater game.
Celebrity Big Brother 2007 was the most controversial run of the series. Indeed, when measured in terms of complaints to the media regulator, it was the most controversial programme ever, after remarks by Jade Goody against Shilpa Shetty turned into the most almighty row about racism. Though Big Brother had always been popular amongst young people, it was remarkably unpopular for older viewers - the audience of over-50s was negligible. While politicians and opinion-formers had heard about the show, most of them had never actually seen it. The talking heads released pent-up vitriol against Big Brother, against Channel 4, against television they didn't understand, and it all turned very ugly. Regulator OFCOM received many thousands of complaints, the programme's sponsor withdrew, and Shetty won the public vote. Though viewing figures rose to a peak of 8.8 million, it wasn't the press Channel 4 wanted.
2007's regular series again lasted for three months; eleven female housemates entered at the beginning, another thirteen people entered and left until Brian Belo was declared the winner. One person was thrown out for using a racial epithet, ratings were the lowest in the show's history, and - after January's troubles - the franchise looked to be in serious trouble. Rather than run another Celebrity edition at the start of 2008, Big Brother Celebrity Hijack had a number of young people confronted by various celebrities playing the role of Big Brother. The programme aired exclusively on the digital channel E4, and was won by politician John Loughton.
By summer 2008, coverage on E4 was much reduced; rather than running for twenty hours per day, there was now barely ten hours of Big Brother programming on the digital channel, and most of that was overnight. For the first time in the show's history, there was no live web stream. Rachel Rice won the public vote, and gimmicks included a "Heaven and Hell" split. Dermot O'Leary left Little Brother with George Lamb making it his home, Big Mouth had a series of guest hosts, and viewing figures for the main show continued to fall, with barely 3 million seeing most shows. Celebrity returned in 2009, with a strong whiff of contractual obligation permeating the programme. Even while the show was airing, we couldn't tell you what was going on, or even who (other than winner Ulrika Jonsson) was in it. The press didn't care, the viewers didn't care.
A similar level of ennui permeated that summer's run. The show had suddenly realised not only that it was mortal but also that it was wounded, and celebrated its "tenth birthday" a mere nine years after the first episode aired. Just in case it wouldn't be around for its real tenth birthday. The nightly updates played to a couple of million viewers - enough for Channel 4 to turn a cash profit on the series, but perhaps not enough to justify the expanse of screen time. Even the internet stream was abolished for this tenth series, when perhaps the greatest gimmick was getting two contestants to change their name so that they might continue in the show. "Dogface" and "Halfwit" were unusually cheap and cruel jibes. Not that it harmed "Dogface"'s chances; again known by her original name in the closing days, Sophie Reade won the show.
By the penultimate week of the series, the die was cast, and Channel 4 decided not to renew the show beyond 2010. The sense was that Big Brother had been on long enough, and it was time to move on, the viewers wanted something different. Like almost everything in Big Brother's glory years, this news was leaked to a tabloid newspaper before the actual announcement. It was the first time in a fair few years that the show had been front page news.
With its fate already sealed, the programme returned for a comparatively well-received celebrity series in January 2010, before returning for its final summer outing in June of the same year. This summer series would run a little over two weeks shorter than comparable series in the years previous had, with its final being held on a Tuesday. This was to enable what was regarded as a separate series entitled Ultimate Big Brother to launch on the same night, and finish off the programme's run. Featuring the winner of the final series, this series would see a mix of famous faces from the previous ten summer series and seven celebrity series return to the house to compete once more, before, after 22 different series, and over 1000 episodes, the house closed its doors for the very last time. Or so it appeared at the time.
Big Brother Will Get Back to You
From the moment it was announced that Channel 4 would not be re-commissioning Big Brother, there had been speculation that another broadcaster would pick it up, with Channel 5 emerging as a favourite. The station had been bought in July 2010 by media tycoon Richard Desmond, publisher of the Daily Star and OK! magazine; these titles had increased sales after covering Big Brother. On buying the channel, Desmond publicly stated that he was interested in securing Big Brother for Channel 5. However, as the final series of Big Brother ended on Channel 4, negotiations between Channel 5 and Endemol collapsed.
Things went quiet for several months, though there were occasional flickers of life - Channel 5 showed a number of documentary series following 2010 winner Josie Gibson and her paramour John James Parton, and contestant Shabby Katchadourian. Endemol and Channel 5 resumed negotiations in 2011, and after much speculation, a deal was announced on 5 April to broadcast Big Brother and its celebrity spin-off on the channel from August 2011.

'When Bruv Takes Over' - The promotional video created to publicise the launch of the programme on Channel 5.
Key moments
The whole "Nasty Nick" saga in BB1

Bus-ted!!!
New housemates always getting evicted at the earliest opportunity.
The time the BB4 housemates had to be evacuated from the house as a result of a bomb scare at the compound. With no-one to change the tapes, after three hours, for the first and only time in Big Brother history, the cameras stopped rolling during a series.
The fight night from BB5, which caused the crew to pull the plug on the cameras because it was getting too violent.
A prolonged row in CBB5 and sparked a national debate on racism, and resulted in Channel 4 having to apologise on air. Official adjudication.

I know who's to blame for this argument...the oxo cubes.
The BB11 housemates also had to be evacuated from the house when during a torrential rain storm, the roof started to leak, causing widespread flooding in the bedroom and living area.
If you're looking for the match reports that used to be here, they're now on their own page.
Catchphrases
Channel 4 version:
'Big Brother will get back to you'
'Who goes? You decide!'
'It's time to talk to the house'
'Big Brother house, this is Davina. You are live on Channel 4, please do not swear' - Although originally intended as a genuine request or warning, this became more of a catchphrase over time.
'You have 30 seconds to say your goodbyes. I'm coming to get you!' - When Davina said this to a housemate moments before they were evicted, this statement didn't seem to make much sense, as she was stood right outside the house when she said it. However in the first two series, Davina would have to go up a short flight of steps from the studio, across a courtyard, along a short dirt path, and across a bridge over a canal inlet to meet the evicted housemate at the compound gate, meaning she did literally have to go and get them. By the third series, when the programme re-located to Elstree, and Davina first started presenting from outside the house, it had already become something of a tradition, and thus remained a feature of every eviction during the programme's run on Channel 4.
'Here are your best bits'
Channel 5 version:
'Who stays? You decide!'
'It's time to talk to the housemates'
'Big Brother house, this is Brian'
'Your time has come'
'You have lost your place in the Big Brother house'
'Here are your house highlights'
Inventor
Based on Jan de Mol's Dutch show.
Theme music
"Big Brother UK TV Theme" by Paul Oakenfold and Andy Gray working under the name ElementFour. Despite the somewhat prosaic title, it was a pretty big hit single back in 2000, reaching number 4 in the charts in September. A Big Brother album is also available (see below).
Trivia
Perhaps unsurprisingly, the 2002 final got Channel 4's biggest non-film audience ever, with ten million viewers tuning in to see Kate Lawler become the first female winner.
When John de Mol was creating the original Big Brother in The Netherlands, it went under the codename The Golden Cage. This title wasn't deemed suitable for the final show, but it has resurfaced as a similar but open ended show (involving contestants living like millionaires but with little contact with the outside world, contestants stay on until they leave on their own free will, last one standing wins the mansion and a huge cash sum) which began in The Netherlands in 2006 and is being sold around the world.
Marcus Bentley supposedly got the job of narrator because the producers liked the way he said the word "chickens". Bentley seems to have been somewhat bemused by this, later telling the Mail on Sunday, "I don't think there's anything special about the way I say 'chickens' but maybe it sounds funny if you're used to southern accents."
Contestants were paid £30 for each day spent in the house to compensate for loss of earnings. Although this was explained in the very first official tie-in book, it still seems to have come as a surprise to a lot of people when it was reported that former housemates returning for the final series were to be paid exactly the same. Cue a load of local radio DJs spluttering over the fact that "oh, they're getting paid now".
The first four series of Big Brother all offered a £70,000 prize for the winner (the early series also offered holidays for the runners up). The fifth series saw the jackpot increased to £100,000, however as part of the 'Big Brother gets evil' theme, the jackpot was reduced for just about any infraction. The eventual prize for this series was £63,500. The sixth series also offered a £100,000 jackpot, but didn't give the full amount to the winner because as part of a final week twist, housemate Eugene Sully chose to take half the money, instead of leaving it alone and being given the chance to win £200,000 should he win the series. Therefore, champion Anthony Hutton only won £50,000. The winners of the seventh to ninth and the eleventh series all pocketed £100,000, with 3rd place series eight contestant Liam McGough also winning £100,000 as part of a mid-series twist. Big Brother 10 also saw a jackpot of £100,000, however after most of the housemates broke out of the house into the camera runs in the second to last week, the prize fund was reduced to zero. Over their remaining time in the house, Big Brother offered housemates the chance to restore the prize fund by completing various tasks. The housemates were successful in several of these tasks, resulting in a prize of £71,320 for the winner. The winner of Big Brother 12, the first series to be broadcast on Channel 5, received a prize of £50,000. The other £50,000 from the prize fund was divided - unequally - between the five finalists, with the housemates having to decide who got what, or else lose it all. We wonder where they got that idea from?
Prior to the start of the 11th series, E4 broadcast a special programme, Big Brother's Big Awards, narrated by Davina McCall. Voted for in part by the public, the programme dished out honours to the previous ten main series, and their housemates. The winners were as follows -
Biggest Bitch - Charlie Uchea (Big Brother 8)
Biggest Bad Boy - 'Nasty' Nick Bateman (Big Brother 1)
Best Catchphrase - Helen Adams (Big Brother 2) for "I like blinkin' I do".
Best Task - The Housemate Electrocution Task (Big Brother 9)
Best Twist - The Bedsit (Big Brother 5)
Biggest Cringe - Michelle Bass (Big Brother 5) for her rendition of Pie Jesu.
Best Argument - Charlie Uchea and Brian Belo (Big Brother 8)
Biggest Controversy - 'Fight Night' (Big Brother 5)
Biggest Tantrum - Nikki Grahame (Big Brother 7) for her "Who is she?" rant.
Best Couple - Michelle Bass and Stuart Wilson (Big Brother 5)
Best Housemate - Nadia Almada (Big Brother 5)
Best Series - Big Brother 7
Graham and Ivy, who made the final shortlist of 81 potential housemates for the 11th series of the show, previously appeared on the third series of Coach Trip, and the second series of Four Weddings.
Series 11 housemate JJ previously appeared on the first series of The Cube, winning £10,000.
The closest eviction vote in the history of the programme was the second eviction vote of Big Brother 3, when Alison Hammond was evicted by a mere 0.08% of the vote - just over 1000 calls separated her from Alex Sibley.
A special edition of Come Dine with Me was broadcast in 2010 featuring four former winners of Big Brother - Brian Dowling, Nadia Almada, Brian Belo, and Sophie Reade.
Series 12, the first to be broadcast on Channel 5, allowed viewers to vote via Facebook. This was the first time voting via social networks had been used on a UK game show.
Series 12 housemate Jemma Palmer previously appeared as Inferno in the Sky revival of Gladiators.
The series has had a number of sponsors over its life:
Southern Comfort (2000)
Dubble (Celebrity 2001)
BT Cellnet (2001)
O2 (2002-3)
Talk Talk (2004-5)
Carphone Warehouse (2006, part of Celebrity 2007)
Virgin Media (2007 main series)
Virgin Mobile (2008)
Dreams (Celebrity 2009, Celebrity 2010)
Lucozade (2009)
Freederm (2010-)
Teen BB was unsponsored in daytime; the E4 evening edits had sponsorship from O2.
Champions
2000 Craig Phillips
2001 Brian Dowling
2002 Kate Lawler
2003 Cameron Stout
2004 Nadia Almada
2005 Anthony Hutton
2006 Pete Bennett
2007 Brian Belo
2008 Rachel Rice
2009 Sophie Reade
2010 Josie Gibson
2011 Aaron Allard-Morgan
Celebrity Big Brother
2001 Jack Dee
2002 Mark Owen
2005 Mark Berry (a.k.a. Bez from Manchester band The Happy Mondays)
2006 Chantelle Houghton (member of girl group Kandyfloss-with-a-K * )
2007 Shilpa Shetty
2009 Ulrika Jonsson
2010 Alex Reid
2011 Paddy Doherty
Teen Big Brother: The Experiment
2003 Paul Brennan
Big Brother: Celebrity Hijack
2008 John Loughton
Ultimate Big Brother
2010 Brian Dowling
*Or so she would have you believe. Chantelle was not a celebrity at all, but was put into the house anyway under orders to pretend to be a celebrity, and in so doing, earn celebrity status (do you see?). The real celebrities in the house didn't spot the bluff, and in a task ranked her more famous than two of their own, so Chantelle was allowed to remain in the house and went on to win the series.
Participants
Some of the 300 people who have appeared on Big Brother over the years have gone on to host game shows. The following contestants in the civilian series have pages on UKGameshows.com:
Celebrity Big Brother:
2001

2002

2005

Bez (ex-Happy Mondays dancer)
Brigitte Nielson (Sylvester Stallone's ex)
Caprice Bourret (model)
Germaine Greer (feminist and writer)
Jackie Stallone (Sylvester Stallone's mother)
Jeremy Edwards (ex-Holby City actor)
John McCririck (racing pundit)
Kenzie (Blazin' Squad singer)
Lisa I'Anson (DJ and presenter)
2006

Chantelle Houghton (member of the public)
Dennis Rodman (ex-basketball player)
Faria Alam (former FA secretary)
George Galloway (Member of Parliament)
Jodie Marsh (model)
Maggot (Goldie Lookin' Chain singer)
Michael Barrymore (former TV presenter)
Pete Burns (Dead or Alive singer)
Preston (Ordinary Boys singer)
Rula Lenska (actress)
Traci Bingham (ex-Baywatch actress)
2007

Shilpa Shetty (actress)
Carole Malone (journalist)
Cleo Rocos (actress)
Danielle Lloyd (glamour model)
Dirk Benedict (actor)
Donny Tourette (Towers of London singer)
Ian 'H' Watkins (ex-Steps singer)
Jack Tweed (Jade Goody's boyfriend)
Jackiey Budden (Jade Goody's mother)
Jade Goody (Big Brother 3 housemate and media personality)
Jermaine Jackson (ex-Jackson 5 singer)
Jo O'Meara (ex-S Club 7 singer)
Ken Russell (director)
Leo Sayer (singer)
2009

Ulrika Jonsson (TV presenter)
Ben Adams (ex-A1 singer)
Coolio (rapper)
LaToya Jackson (singer)
Lucy Pinder (glamour model)
Michelle Heaton (ex-Liberty X singer)
Mutya Buena (ex-Sugababes singer)
Terry Christian (DJ and TV presenter)
Tina Malone (Shameless actress)
Tommy Sheridan (politician)
Verne Troyer (actor)
2010

Alex Reid (cage fighter)
Dane Bowers (ex-Another Level singer)
Heidi Fleiss (madam)
Ivana Trump (former athlete)
Jonas Altberg (DJ aka Basshunter)
Katia Ivanova (Ronnie Wood's ex)
Lady Sovereign (rapper)
Nicola Tappenden (glamour model)
Sisqo (singer)
Stephanie Beacham (actress)
Stephen Baldwin (actor)
Vinnie Jones (ex-footballer and actor)
2011
Amy Childs (The Only Way is Essex star)
Bobby Sabel (model)
Darryn Lyons (paparazzo)
Kerry Katona (ex-Atomic Kitten singer)
Lucien Laviscount (ex-Coronation Street actor)
Paddy Doherty (My Big Fat Gypsy Wedding star)
Pamela Bach-Hasselhoff (ex-Baywatch actress)
Sally Bercow (wife of the Speaker of the House of Commons)
Tara Reid (American Pie actress)
2012
Natalie Cassidy (ex-EastEnders actress)
Michael Madsen (Reservoir Dogs actor)
Andrew Stone (Pineapple Dance Studios star)
Kristina and Karissa Shannon (Playboy playmates)
Frankie Cocozza (The X Factor outcast)
Gareth Thomas (former rugby player)
Nicola McLean (glamour model)
Kirk Norcross (The Only Way is Essex star)
Georgia Salpa (lingerie model)
Natasha Giggs (sister-in-law of Ryan)
Romeo (former So Solid Crew singer)
Denise Welch (Loose woman)
Ultimate Big Brother:
2010:
Josie Gibson (winner - Big Brother 11)
Chantelle Houghton (winner - Celebrity Big Brother 4)
Preston (participant - Celebrity Big Brother 4)
Nadia Almada (winner - Big Brother 5)
Brian Dowling (winner - Big Brother 2)
Ulrika Jonsson (winner - Celebrity Big Brother 6)
Makosi Musambasi (participant - Big Brother 6)
John McCririck (participant - Celebrity Big Brother 3)
Coolio (participant - Celebrity Big Brother 6)
Nikki Grahame (participant - Big Brother 7)
'Nasty' Nick Bateman (participant - Big Brother 1)
Victor Ebuwa (participant - Big Brother 5)
Michelle Bass (participant - Big Brother 5)
Vanessa Feltz (participant - Celebrity Big Brother 1)
Merchandise
Big Brother's Big DVD, containing three full episodes and brief retrospectives of all the Channel 4 series.

Big Brother - the Unseen Story
Book
Also The Offical Unseen Story (tie-in book for series 2)
Inside Big Brother (tie-in book for series 3)
Big Brother 4: Up Close And Personal (tie-in book for series 4)
Big Brother 6 (tie-in book)
Big Brother: The Inside Story (written by former contestants)

Big Brother - the Album
Double CD
- includes the famous theme music
PC game
The Babe's Bible - book co-written with Sada Walkington (former BB contestant)
How to be a Right Bastard - book by Nick Bateman (former BB contestant)
Billion Dollar Game - book by Peter Bazalgette. An insider's view of the development of the show from its initial conception to the screen.
Videos

This is how it all started way back in the year 2000.
Web links
Off The Telly's Big Brother reviews
The show publicised the hashtag #bbuk. Meanwhile, spin-off show Big Brother's Bit On the Side publicised the hashtag #bbbits.
During its run, Big Brother achieved cultural hegemony amongst young people, while saying nothing to older people. The producers sanctioned academic researchers for the Hansard Society to write "A Tale of Two Houses", a 2003 paper exploring the divergent audiences for Big Brother and Westminster politics.
See also
Detailed reviews of the first two series
Weaver's Week reports:
BB2: Week 1 | Week 2 | Week 3 | Week 4 | Week 7 | Week 8 | Week 9 | Week 10 | Analysis
BB3: Week 1 | Week 2 | Week 3 | Week 4 | Week 5 | Week 6 | Week 7 | Week 8 | Week 9 | Postscript
BB4: Week 1 | Week 2 | Week 3 | Week 4 | Week 5 | Week 6 | Week 7 | Week 8 | Week 9
BB5: Week 1 | Week 2 | Week 3 | Week 4 | Week 5 | Week 6 | Week 7 | Week 8 | Week 9 | Postscript
BB6 (end-of-series analysis)
BB7 (end-of-series analysis)
Celebrity BB: Series 1 | Series 2: Part 1 | Part 2 | Series 3
Book reviews: Dean O'Loughlin (2004) | Narinder Kaur (2007)
A Big Brother scrapbook 2000-10
Celeb BB 2011 | BB12
Feedback