Bob Mills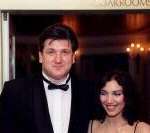 Biography
Comedian and writer who was a perfect match for the enjoyable daytime TV frippery of Win, Lose or Draw, having previously hosted cult late-night frippery In Bed With Medinner. Generally underrated as a presenter, we wouldn't mind seeing him back on our screens, but these days he's much busier (and richer, too, we imagine) as a scriptwriter. He still does the occasional stint on BBC LDN, though.
Trivia
In May 1996, a young Danny Wallace, profiling Mills for Comedy Review magazine, opined "Where will he be in ten years' time? He will be, beyond reasonable doubt, the British David Letterman."
He co-wrote the ITV dram-com Bob Martin (in the Larry Sanders stylee) about a pressurised world of the host of a game show called Quickfire. The other co-writer and main lead was Michael Barrymore.
He returned (uncredited) to a quizmaster role in an episode of The 1970s Office, hosting a pub quiz for the participants.
Web links
Feedback