Britain's Got Talent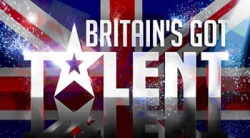 Synopsis
A search for a talented performer, with the prize of an appearance at the Royal Variety Performance and £100,000.
Simon Cowell leads a team of light-entertainment deities (and former tabloid editor Piers Morgan) around the country in search of fine talent. Unlike every other talent contest ever, the performer need not be a singer. Dancers, ventriloquists, clowns, people who play the spoons, people who carve sculptures out of ice are all welcome to audition.
The key gimmick here was that each judge was issued a large X, linked to a buzzer. When the judge had had enough of the performance, they pressed their buzzer, and their X lit up. If all three judges buzzed in, the act was entertaining no-one, and terminated. Any resemblance to the gimmick of Let Me Entertain You is surely a coincidence.
The first half of the series followed the usual route of showing people who were either very competent or very poor at what they did. The latter stages returned to a more traditional theatre setting, with a public phone-in to determine who would advance to, and ultimately win, the final.
Inventor
Champion
Paul Potts (website)
Web links
See also
Feedback