Cat Deeley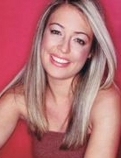 Biography
Former model whose first TV break was on MTV in 1997. She came to more widespread notice the following year when she became co-host of the Saturday morning shows SM:TV Live and CD:UK alongside Ant and Dec. Afterwards, she became ITV's presenter of choice for gala events and also found time to present a show on Capital FM alongside her former MTV colleague Edith Bowman.
Now lives in Los Angeles, where she hosts the top-rated Fox TV show So You Think You Can Dance, and was therefore the natural choice to also front the belated UK version.
Trivia
She also appeared as the host of Peter Kay's 2008 talent show spoof Britain's Got the Pop Factor and Possibly a New Celebrity Jesus Christ Soapstar Superstar Strictly on Ice.
Cat's not just a pretty face. She got nine A-grades at GCSE and has four A-levels.
She is a supporter of West Bromich Albion, but nobody knows why.
She was named "Britain's Most Orange Celebrity" in a 100% scientifically rigorous 2004 poll to promote a well-known orange-flavoured confectionery product, beating Dale Winton into second place.
Contact
Web links
Feedback