Catchphrase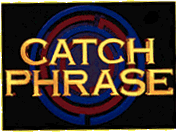 Synopsis
Two people attempted to solve Catchphrases (picture puzzles which revealed a phrase, saying, title, whatever - think Dingbats) to win money.
Before each round one person stopped the flashing light and that determined how much money each one in this round was worth. Then, a puzzle came on screen which, after the bell but not before, it was first on the buzzers. If they were right they won the money.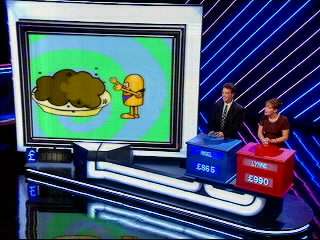 An example puzzle (answer below)
One of the most distinctive things about Catchphrase was that it was one of the first shows to use proper computer animations as part of the game, and even by the end it remained pretty cutting edge. Many of the animations featured a robot called Mr. Chips.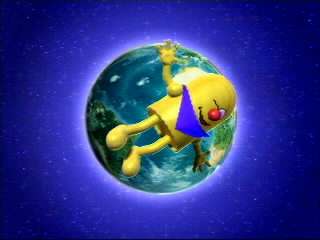 Mr. Chips giving us a wink, the cheeky devil
After each puzzle, that person got a chance at the Bonus Catchphrase. This was covered by nine squares. One was picked at random and removed then they were allowed a guess. If they got it right, they won whatever was in the Bonus Bank (100+ round number times 50, take away 10 for every square already uncovered, plus the number of letters in the month etc...). If wrong, they did another puzzle and so on until someone got it. Repeat as required, sprinkle liberally with extra money for each round.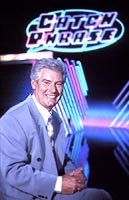 Host Roy Walker on the set of Catchphrase - surely one the most durable in the business, it hardly changed in over a decade except for the logo.
After the break, there was always the faster-moving Ready Money Round where there was no bell. Which was nice.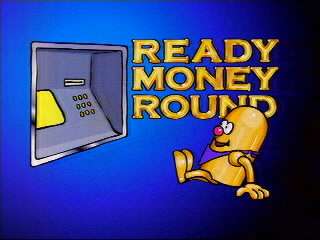 Mr Chips can't believe his luck - it's the Ready Money Round
The person with the most money at the end of the show went forth to the Super Catchphrase. A grid of 25 lettered squares flashed up. Behind each one was a Catchphrase. If they got 5, they won an extra £50 (or £500 from 1997). However, if they did that by going through the 'M' square (which they claimed to be the "difficult" one but we personally didn't believe that for a moment) they won a lovely holiday in somewhere exotic like Bali! PLUS! Spending money.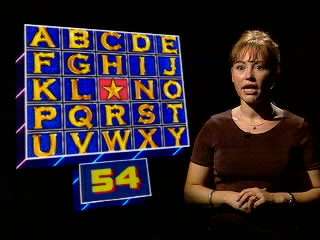 Only 6 seconds into her minute and she's already cracked the M square.
Popular show that very rarely had an exciting finish to it - one player nearly always dominated the other. But it still lasted a zillion series. Oh, and the answer is "dishing the dirt".
Game play from Catchphrase
Catchphrase for The New Millennium
Someone had the sense to give the show a complete re-vamp for its 2000 series. The graphics engine was made sexier and given a new cartoon style. The bonus game was covered by nine shapes as usual, but they weren't necessarily squares. The Ready Money Round was replaced by the Cash Countdown, and the end game was now a Blockbusters-style "get to the other end of the board" thingy, using the same 5x5 letter grid.
Roy Walker was replaced by Nick Weir, who broke his leg during the recording of the first series (in true Matthew Kelly Game for a Laugh style). He sometimes gave away too many hints, but his performance was much improved since his debut on Waffle.
This package of changes gave the idea a new lease of life, but we weren't sure about the spot prizes, though.
But this relaunch completely bombed with the public, who simply missed Roy Walker, and even a last ditch attempt in 2002 to save the show by moving it to daytime (with new host Mark Curry, who invented a running joke about not having any catchphrases of his own) didn't help. The 'Points Countdown' just didn't quite have the same ring to it...
See also: Family Catchphrase
Key moments
When a contestant said something really stupid yet Roy Walker still insisted that "It's good, but it's not right." Come on, Roy, it quite blatantly wasn't. Why couldn't you have said "I'm sorry that was rubbish. Never grace me with your voice again. Ever."
"Say what you see" was a bonus catchphrase around 1998. Amazingly, no-one got it. Additionally, "Catchphrase" was a catchphrase once...they got that, though.
That bonus Catchphrase in 1994:
The Snake Charmer episode
Catchphrases
"Say what you see"
"It's good, but it's not right"
"Riiiiiiiiiiight!"
"We're taking out the bell"
"It's fast and furious in the Ready Money Round"
"Five seconds... here we go"
"The M square, that's the difficult one"
"What's Mr Chips doing?"
"Watch your screens... here we go!"
"Keep pressing and guessing!"
"You can't win if you don't buzz in!"
Theme music
Composed by Ed Welch.
Inventor
Devised by Stephen Radosh.
Trivia
In the original US show, popular gameshow mascot Mr Chips is called Herbie.
Roy Walker once recounted the ancedote of the show once running out of catchphrases. The second of the four shows being recorded that day had got through a huge number of phrases that neither contestant knew. The computer files were being flown in on disc from the US, so a bike was rushing to the airport to pick them up. During the filming break, one of the contestants kept nipping back to his dressing room. It turned out that he was taking swigs of booze, and eventually became legless. The reserve contestant was telephoned, but he put the phone down not realising that they needed him immediately and went back to working on his allotment. So a car was dispatched to find him in the gardens and take him back to the studio. But then that car broke down causing a delay, and to cap it all the bike bringing back the catchphrases also broke down.
Merchandise
There was also a Catchphrase puzzle book, board game and a video featuring 500 catchphrases.
Web links
Pictures

Picture 1
- Original host,
Roy Walker
.
Feedback