Christopher Hughes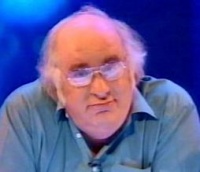 Biography
Underground and train driver who was the winner of 1983's series of Mastermind and the subsequent Mastermind International playoff. He also won Brain of Britain in 2005.
Trivia
His first game show win was £100 on The Sky's the Limit.
He was a winner on the short-lived Top of the World.
He was so good on The Weakest Link (answering every single question correctly) that he got booted off in the final vote, and Anne Robinson was nice to him.
Feedback