Come Dine with Me
Line 1:
Line 1:
+

<div class="box">

<div class="box">

== Host ==

== Host ==
---
Revision as of 18:54, 20 March 2008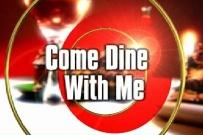 Host
Dave Lamb (voiceover)
Broadcast
Granada London (LWT) for Channel 4, 10 January 2005 to present
Synopsis
Five contestants compete to throw the best dinner party. They each give a dinner party over the course of a week, and mark each other out of ten. The host(ess) with the most(est) at the end of the week wins a thousand pounds.
The first half of each show follows the preparation for the party, and the second half is the event itself. There are frequent cutaways to pre- and post-game interviews with the contestants. It's a surprisingly entertaining format, with Dave Lamb's voiceover striking just the right tone, taking the mickey but not to the extent of stitching up the participants. Let's face it, these people know very well what they're letting themselves in for, and their follies and foibles are bound to get an airing - especially if those foibles include inviting a group of friends round to sing hymns in four-part harmony at the guests. Really - it happened.
There is a rather strange feeling about the whole dinner party theme, as if this was a show from the aspirational eighties rather than now. All the participants seem to live in those spacious houses with nothing in them that isn't furniture. Don't real people's houses usually contain, y'know, stuff? (To be fair, this was more the case in the first run, and subsequent series have featured more "ordinary" homes.) Still, it's a fun way of doing a show focusing on contestants' personalities without going down the "extreme challenges" route.
The obvious tactic for the more unsporting of participants is to dole out very low scores to everyone else in order to improve your chances of winning. But the producers (who take a dim view of tactical voting, apparently) evidently have a deus ex machina or two to hand: one particularly unpleasant contestant tried this, essentially choosing to mark everyone else out of three instead of ten, only to be told at the end of the week that she must either rescore all four parties, or else disqualify herself from the competition. This certainly helps make the process fairer, but there's a slightly unsettling vagueness to it - how low do your marks have to be before they become 'tactical'?
It's light and fluffy, undemanding but enjoyable enough, and feels about right for the post-Countdown slot. However, as that slot has effectively been dealt out of existence, the 2008 series is actually pencilled in for primetime; quite an accolade for a low-key programme which has gone from strength to strength largely through word-of-mouth.
Key moments
We thought it was pretty audacious when a contestant in the first series - a footballer's wife, no less - bought her ravioli ready-made, lied about it... and won the £1000. But that was nothing, nuthin, I say, compared to the contestant in series two who had the local bistro cook her entire meal, which at a text-message signal, they secretly passed to her through the kitchen window. The best bit of this diabolical scheme is that when, in a fit of conscience, she confessed what she'd done (or rather, not done) to one of her diners, said diner thought this was a great idea and not only promised not to blab to the others, but awarded her hostess maximum points too.
One party ended with the hostess offering her guests a puff of fruity tobacco from a hookah.
Inventor
Devised and produced by Putul Verma.
Theme music
Nick Crofts. Incidentally, the first series had a very different closing theme which has since vanished along with the incidental music based on it.
Web links
Channel 4 Come Dine with Me microsite
Feedback