Contestant Calls
Line 8:
Line 8:

''This section contains specific adverts placed by producers who have contacted this website. When applying for a programme, '''please let them know you saw their appeal on ''UKGameshows.com'' ''' - thanks!''

''This section contains specific adverts placed by producers who have contacted this website. When applying for a programme, '''please let them know you saw their appeal on ''UKGameshows.com'' ''' - thanks!''

+
+
+
+
+
+
+
+
+
+
+
+
+
+
+
+

===For What It's Worth===

===For What It's Worth===
---
Revision as of 01:58, 2 January 2017

Want to be on TV to win lots of cash, have the holiday of a lifetime, test your knowledge, or generally make a prat of yourself? This is the page to help you do just that. See below for the current opportunities available.
PRODUCERS: If you wish to place an advert here, please refer to our Producer Information page.
Special calls
This section contains specific adverts placed by producers who have contacted this website. When applying for a programme, please let them know you saw their appeal on UKGameshows.com - thanks!
The Button
Take part in our new BBC game show pilot alongside your family and friends and win a CASH PRIZE from the comfort of your own home!
- Do you live in a London household of 2 or more people?
- Are you all up for a challenge and a good laugh?
- Fancy competing in a series of fun tasks together to win a cash prize without even having to leave your house?!
- Then we want to hear from you!
To register your interest in this exciting new show and find out more, please get in touch with the team ASAP, with your address and contact number as well as a bit about you and those who live in your household.
TheButton@avalonuk.com or phone 0207 598 7293
All ages welcome! Must be able to commit to one day of filming on either 5th or 12th Feb. Terms and conditions apply.
---
For What It's Worth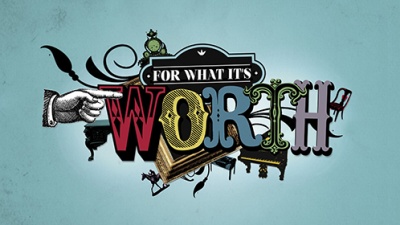 BBC Two's antiques and general knowledge quiz show, presented by Fern Britton, is back for a second series and looking for pairs of contestants.
Do you love antiques and collectables? Would you like to win a cash prize? Could you spot a hidden treasure?
We are looking for lively PAIRS OF CONTESTANTS to take part!
Whether you're friends, colleagues, siblings or parent and child we want to hear from you! Within the PAIR one person must be an antiques enthusiast and the other a quizzer answering general knowledge questions.
TO APPLY, VISIT: http://www.tuesdayschild.tv/fwiw/
For more information email fwiw@tuesdayschild.tv or call 0203 761 4546.
Applicants must be 18 years or over and a legal resident in the UK. Terms and Conditions apply.
Deadline: 29/3/2016
Programme type: Series
Interview expenses paid?: No
Show expenses paid?: Yes
Interview cities: UK Nationwide
---
New quiz show
Could You Talk, Debate & Deliberate Your Way Into Winning a Big Cash Prize?
Are you fun, confident, outgoing? Then get in touch now!
The makers of Made in Chelsea are producing a series of brand new type of quiz show for a major broadcaster.
We're looking for great contestants & strong personalities; those who love a quiz and would relish persuading others that they know best. If you're confident, opinionated and outgoing, we want you!
If you think you have what it takes to be in the show and win a cash prize:
Email now:  casting@monkeykingdom.com
  Closing date: 15th April 2016.
---
New online game show
Pickle Jar Films are looking for contestants to take part in a new online game show. Part Apprentice, part Treasure Hunt, part Gumball Rally, we are looking for two teams to compete and get from A to B, against the clock! Whilst on this journey, you'll have to undertake tasks and spend your allotted budget skillfully and wisely… Are you up to the challenge?
Do you have what it takes to be a team player who can get from A to B? Do you also have the spirit of adventure we are looking for?
If so please don't hesitate to get in touch and apply today and include your telephone number and where you are based.
Contact: studio@picklejarfilms.com before Friday 4th March.
Filming will take place over two days and will involve two overnights. Travel costs and accommodation costs will be covered.
---
Alphabetical
ALPHABETICAL – The show with LOADS of QUESTIONS and HUGE CASH PRIZES!
ALPHABETICAL is the brand new quiz show for ITV1.
No devices... No word games... No gimmicks - just good ol' fashioned Q and A that's fun to both play and watch!
This is the quiz that's accessible to ALL, with so many questions..... we'll struggle to squeeze them all in!
APPLY NOW by emailing your NAME & CONTACT NUMBER to BeOnAlphabetical@GameFaceTV.co.uk ...... It's as easy as A-B-C!
Deadline: 14/2/2016
Interview expenses paid?: No
Show expenses paid?: Yes
Interview cities: Across the UK
---
General information

This is a list of other programmes which we believe are currently looking for contestants. When applying, it is usually necessary to include details of: your name, address, age, sex, daytime and evening telephone numbers, fax or email (if appropriate), and the name of the show you are applying for.
FOR ALL BBC SHOWS
A general email address for contestants enquiries for BBC ONLY entertainment programmes is: entertainmentcontestants@bbc.co.uk
Contestant calls are posted at bbc.co.uk/beonashow.
There is also a separate CBBC "Be on a show" page.
CHANNEL 4 SHOWS
Specific contestant calls are regularly posted at www.channel4.com/takepart.
Fill in the online application form or write to:
Contestant Applications
Bargain Hunt
PO Box 229
Bristol
BS99 7JN 

The application form for Countdown is now available online (Microsoft Word format only).
Alternatively, you can get a form sent to you by emailing countdown@channel4.com or writing to:
Countdown
The Television Centre
Leeds
West Yorkshire
LS3 1JS

For audience tickets, call 0161 9520408 or email shantelle.gaston-hird@itv.com.
Visit http://www.channel4.com/programmes/deal-or-no-deal/articles/how-to-become-a-contestant to be notified when applications are accepted.
Visit 12yard.com/shows/eggheads to fill out an application form online.
Alternatively you can email: eggheads@12yard.com
The online application form is available for a few months a year.
Prospective contenders can fill in the online application form or write to:
Mastermind
Room 4012
New Broadcasting House
Oxford Road
MANCHESTER
M60 1SJ

Pairs of players will wish to download the application form (MS Word), or write to:
Pointless Applications
Endemol UK
Shepherd's Building Central
Charecroft Way
London
W14 0EE

Email universitychallenge@bbc.co.uk.
Only teams from degree-issuing institutions may apply.
For audience tickets, call 0161 9520408 or email shantelle.gaston-hird@itv.com.
Who Wants to be a Millionaire?:
If applications ever re-open, we can be sure they'll be at the ITV Millionaire site.
---
Application details are provided as a service to readers, but please note that all contestant enquiries should be directed to the named production company and not to UKGameshows.com. Addresses can be found on our list of contact details for production companies.