Crackerjack
Line 18:
Line 18:

A behemoth of children's programming, for nearly three decades ''Crackerjack'' pretty much marked the start of the weekend with its mixture of sketches, pop performances and of course its games. Countless different games were played down the years - there were any number of straightforward on-the-buzzer quizzes, alongside other games like the jigsaw-based ''Jig-Jak'' and Hangman variant ''Take A Letter'', but the show's signature game was ''Double Or Drop'', devised by original host Eamonn Andrews, in which kids had to answer questions while holding on to an ever-increasing pile of prizes (with cabbages added to the heap for wrong answers). Win or lose, everyone went home with the coveted "Crackerjack pencil".

A behemoth of children's programming, for nearly three decades ''Crackerjack'' pretty much marked the start of the weekend with its mixture of sketches, pop performances and of course its games. Countless different games were played down the years - there were any number of straightforward on-the-buzzer quizzes, alongside other games like the jigsaw-based ''Jig-Jak'' and Hangman variant ''Take A Letter'', but the show's signature game was ''Double Or Drop'', devised by original host Eamonn Andrews, in which kids had to answer questions while holding on to an ever-increasing pile of prizes (with cabbages added to the heap for wrong answers). Win or lose, everyone went home with the coveted "Crackerjack pencil".

-

In the Stu Francis era, the final two contestants would both be teamed up with a celebrity, one male and one female, to play first 'Take A Letter', then a gunge-based game, 'Take A Chance'. Each celebrity would compete against Stu to answer a question correctly, and whoever failed to do so would be gunged - although Stu and the male celebrity were usually gunged anyway! The celebrities brave enough to put themselves through this included Geoff Capes, [[Russell Grant]], [[Sarah Greene]] and Suzanne Dando, among many others.

+

In the Stu Francis era, the final two contestants would both be teamed up with a celebrity, one male and one female, to play first 'Take A Letter', then a gunge-based game, 'Take A Chance'. Each celebrity would compete against Stu to answer a question correctly, and whoever failed to do so would be gunged - although Stu and the male celebrity were usually gunged anyway ! The celebrities brave enough to put themselves through this included Geoff Capes, [[Russell Grant]], [[Sarah Greene]] and Suzanne Dando, among many others.

<div class="image">[[Image:Crackerjack double or drop.jpg]]

<div class="image">[[Image:Crackerjack double or drop.jpg]]
---
Revision as of 16:50, 22 September 2007
Host
Hosts included: Leslie Crowther, Ronnie Corbett, Don Maclean, Ed Stewart, Eamonn Andrews, Michael Aspel, Stu Francis
Co-hosts
Hostesses included: Pip Hinton, Julie Dorne-Brown, Sara Hollamby, Jillian Comber, Leigh Miles, Sally-Ann Triplett and Ling Tai
Broadcast
BBC, 14 September 1955 to 21 December 1984 (c.400 episodes)
Synopsis
A behemoth of children's programming, for nearly three decades Crackerjack pretty much marked the start of the weekend with its mixture of sketches, pop performances and of course its games. Countless different games were played down the years - there were any number of straightforward on-the-buzzer quizzes, alongside other games like the jigsaw-based Jig-Jak and Hangman variant Take A Letter, but the show's signature game was Double Or Drop, devised by original host Eamonn Andrews, in which kids had to answer questions while holding on to an ever-increasing pile of prizes (with cabbages added to the heap for wrong answers). Win or lose, everyone went home with the coveted "Crackerjack pencil".
In the Stu Francis era, the final two contestants would both be teamed up with a celebrity, one male and one female, to play first 'Take A Letter', then a gunge-based game, 'Take A Chance'. Each celebrity would compete against Stu to answer a question correctly, and whoever failed to do so would be gunged - although Stu and the male celebrity were usually gunged anyway - the ladies usually (but not always) got away scot-free! The celebrities brave enough to put themselves through this included Geoff Capes, Floella Benjamin, Emlyn Hughes, Russell Grant, Sarah Greene, Les Dawson and Suzanne Dando, among many others. The gunge was always given some name relevant either to some random theme or to the celebrities themselves (such as 'Johnny's Junk' for Johnny Ball and 'Black Belt Bilge' for judo-star Neil Adams).
Key moments
To be completed
Catchphrases
Host: It's Friday, it's five to five, and it's Crackerjack.
Studio audience, at the top of their voices: CRACK-KER-JAAAACK!!!
(Stu Francis, before the 'Take A Chance' game): "Let's have a look at the points to be won - or the penalties to pay!"
Stu Francis's main catchphrase (not just on this show) was: "Ooh, I could crush a grape", along with others such as: "Ooh, I could test-drive a Tonka!" "Ooh, I could wrestle an Action Man!" "Ooh, I could duff a daffodil!" "Ooh, I could jump off a doll's house!" and "Ooh, I could rip a tissue!"
Inventor
BBC producer John Downes
Theme music
A music clip is available from the TV Cream site.
Trivia
The famed Crackerjack pencils were only given to children who actually took part in the games, and they were kept under lock and key so nobody else - even the presenters and crew - could have one. One exception was made in 1961 when the Queen visited the set and was given pencils for Prince Charles and Princess Anne. The pencils were abandoned for a short time in the early 1970s but were subsequently reintroduced, and later on there were Crackerjack pens as well.
Eamonn Andrews originally hosted Double or Drop as a touring show for adults in Ireland, first in cinemas (which in those days got tax breaks if they featured live entertainment as well as films) and then as a warm-up act for Joe Loss and his band, before adapting it for children. In the original version, prize money doubled at each question up to a maximum of one pound, hence the name.
Double Or Drop was revived by Blue Peter in 2002. They even played it on Fridays at about 5.15, just like the original.
Web links
Nostalgia Central's Crackerjack page
Pictures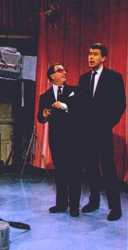 Leslie Crowther & Peter Glaze
Feedback