Crosswits
(Announcers added in co-host section)

Line 7:
Line 7:

[[Tom O'Connor]] (1987-98)

[[Tom O'Connor]] (1987-98)

+
+
+
+
+
+

== Broadcast ==

== Broadcast ==
---
Revision as of 22:43, 26 February 2007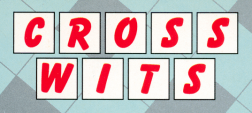 Host
Barry Cryer (1985?-87)
Tom O'Connor (1987-98)
Co-Hosts
Several announcers from Tyne Tees TV including Bill Steel and Judi Lines
Judi Lines
Broadcast
Cove Productions/Action Time for ITV, 1985?-98
Synopsis
"We'll have 8 Across please."
"They're wits, and they're in the shape of a cross (9)."
"Erm..."
BEEBOOP!
The New York World has a lot to answer for.
Players have to solve cryptic clues in this comfortable weekday show. Two teams of two, an ordinary member of the public coupled with a celeb would compete for points. On the computer board was a giant crossword puzzle, all the clues hinting towards a common keyword.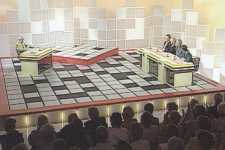 An old (pale-coloured) version of the Crosswits set
Teams took it turns to choose a clue, a correct answer giving them one point for each letter in the word and the chance to solve the keyword for a bonus of ten. This carried on until the end.
Special rounds included the Song round, where all the clues were lyrics in the first line or two of a well-known song, the Anagram round where the first letter of each clue formed the clueword, and the Mystery round, where if you can find the keyword after one clue (with no clueword given) you won a cordless phone.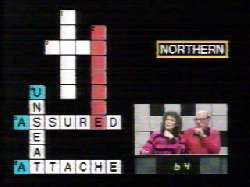 The computerised game board, showing an anagram round in progress (the answer was AURORA)
The team with the most points after the siren went through to the Crossfire round, a ten clue crossword and they had 60 seconds to finish it in. If they did they won a holiday, if they lost they won obscurity. They'd keep the same two celebs from day to day throughout the week so you could really see a slice of competitiveness.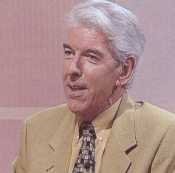 Host, Tom O'Connor.
Cheerfully hosted by Scouse ex-English teacher Tom O'Connor. The guests on the show included anyone they could get to make the journey to Newcastle, including Colin Baker, Kate Copstick, David "Kid" Jensen, Carol Vorderman and - the real master of the game - comedy writer John Junkin.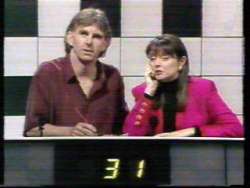 Carol Vorderman helps out a contestant
Key moments
Usually some close finishes in the end game.
Catchphrases
"And never a cross word... just for me, alright?"
"If there's a 'cross word' in your house, make sure it's written and not spoken."
Inventor
Devised by Jerry Payne.
Trivia
There were some earlier series of Crosswits hosted by Barry Cryer. It was then a weekly show, with the points being shown as an amount of money in pounds.
Merchandise
A Crosswits puzzle book was published by Boxtree.
Videos
1991 title sequence
Latest title sequence
Pictures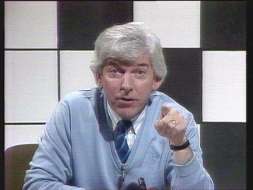 Picture 1
- Tom doing his "Never a cross word..." ending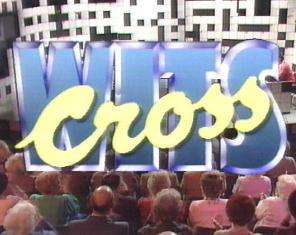 Picture 2
- Screen shot from the opening titles of Cross Wits.
Feedback