Crosswits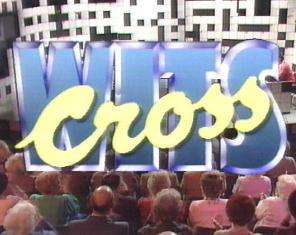 Host
Barry Cryer (1985-6)
Tom O'Connor (1987-97)
Co-hosts
Announcers:
Bill Steel
Judi Lines
Jonathan Morrell
Broadcast
Tyne Tees in association with Cove Productions and Action Time for ITV, 3 September 1985 to 23 December 1998 (435 episodes in 12 series)
Synopsis
"We'll have 8 Across please."
"They're wits, and they're in the shape of a cross (9)."
"Erm..."
BEEBOOP!
The New York World has a lot to answer for.
Players have to solve cryptic clues in this comfortable weekday show. Two teams of two, an ordinary member of the public coupled with a celeb would compete for points. On the computer board was a giant crossword puzzle, all the clues hinting towards a common keyword.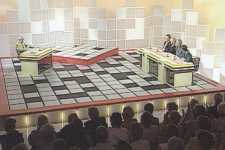 A recent (pale-coloured) version of the Crosswits set
Teams took it turns to choose a clue, a correct answer giving them one point for each letter in the word and the chance to solve the keyword for a bonus of ten. This carried on until the end.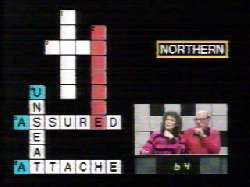 The computerised game board, showing an anagram round in progress (the answer was AURORA)
Special rounds included the Song round, where all the clues were lyrics in the first line or two of a well-known song, the Anagram round where the first letter of each clue formed the clueword, and the Mystery round, where if you can find the keyword after one clue (with no clueword given) you won a cordless phone.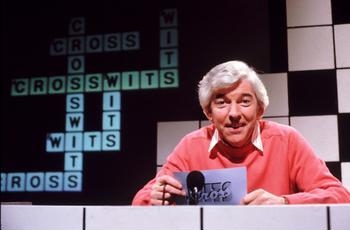 Host, Tom O'Connor.
The team with the most points after the siren went through to the Crossfire round, a ten clue crossword and they had 60 seconds to finish it in. If they did they won a holiday, if they lost they won obscurity. They'd keep the same two celebs from day to day throughout the week so you could really see a slice of competitiveness.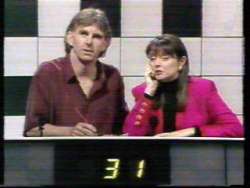 Carol Vorderman helps out a contestant
Cheerfully hosted by Scouse ex-English teacher Tom O'Connor. The guests on the show included anyone they could get to make the journey to Newcastle, including Colin Baker, Kate Copstick, David "Kid" Jensen, Carol Vorderman and - the real master of the game - comedy writer John Junkin.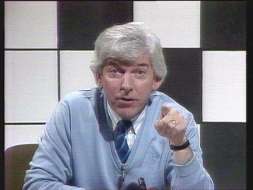 Tom doing his "Never a cross word..." ending
Key moments
Usually some close finishes in the end game.
Catchphrases
"And never a cross word... just for me, alright?"
"If there's a 'cross word' in your house, make sure it's written and not spoken."
Inventor
Devised by Jerry Payne.
Theme music
There were three different signature tunes. The first two incarnations were written by Graham Elliott and Mike Bersin.
Trivia
Patricia Walton writes:
From around 1989 puzzles were compiled mainly by two people: the late and marvellous cruciverbalist Bob Smithies aka "Bunthorne" to people who solved his puzzles in the broadsheets, and by me; Patricia Walton. In fact it was at my suggestion that the music round was introduced. Space Oddity was one of many puzzles I compiled during the seven years I worked on the show.
There were some earlier series of Crosswits hosted by Barry Cryer. It was then a weekly show, with the points being shown as an amount of money in pounds.
To give you an idea of the calibre of celebrity guests the show got on, here's the line-up for the summer 1989 series. If you don't know who these people are... well, there you go:
Week 1: Dinah Sheridan and Richard Whitmore
Week 2: John Junkin and Janice Long
Week 3: Leslie Crowther and Kathryn Apanowicz
Weeks 4 & 5: Chris Tarrant and Wincey Willis
Week 6: Gordon Honeycombe and Brigit Forsyth
Week 7: Jenny Hanley and Alfred Marks
Week 8: Pamela Power and Reginald Marsh
Week 9: Colin Baker and Carmen Silvera
Correspondent "Miss Emma" says: "We had a carpet right through the 80s that was exactly the same colour as the Crosswits board background" which was "brown, medium-dark". It's this kind of detail that makes UKGameshows.com the web's number one source for game show analysis and light entertainment-related retro furnishing gossip - remember, you don't get this anywhere else!
Regional transmission information
1985–87
The first series aired on Tuesday afternoons at 3pm (Thursday at 3pm on TVS), with the exception of 1 October 1985 (live snooker was preferred, as was the fashion in 1985).
Series two went out at 6.30pm on Monday evenings on Tyne Tees, 3pm Tuesdays in all other regions. No episode aired on the ITV network on 17 March 1987 (Budget '87) and the series ran a week later.
The third series aired in autumn 1987 on Tuesday to Thursday afternoons at 2pm, except for TVS (3pm on Monday; not all episodes aired) and Channel (3pm on Monday, Wednesday, and Friday).
1988–94
From the fourth series up until the tenth series, the show aired on Monday to Friday mornings at 9.25am, just after TV-am/GMTV had finished. For more, we have a complete guide to ITV's 9.25 shows.
1996
The eleventh series aired on Monday to Friday afternoons, but was not networked. Most regions aired the series in the late autumn, from October to December:
Carlton, Central, Tyne Tees, and Yorkshire had shown the series in May and June, at 1.25pm.
Westcountry followed the rest of the network with an autumn slot, also at 1.25.
Ulster aired the episodes at 1.55.
Grampian put the shows out at 2.50.
Scottish aired the episodes at 2.20, but only four times a week.
Border and Granada aired the episodes at 5.10pm most days.
Anglia and Meridian aired the episodes on most days at 12.55pm. Anglia continued to broadcast more episodes, finishing on 24 January 1997.
HTV aired over half the episodes at 2.25pm, but did not complete the run.
We're not entirely certain about transmission details for Ulster, Grampian, Border, Granada, and Scottish; let us know if you know more.
1998
The twelfth series was networked on Tuesday to Thursday afternoons at 1.50pm. The first 33 episodes went out from 6 January to 19 March. The last episodes aired from 21 to 23 December 1998.
Merchandise
A Crosswits puzzle book was published by Boxtree.
Web links
Feedback