Daley Thompson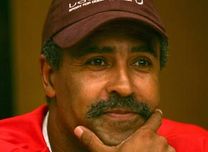 Biography
Much-loved athlete who dominated the sport of decathlon in the 1980s. He retired from competition in 1992 and has since been involved in coaching. He was involved in the successful London bid for the 2012 Olympic Games.
Trivia
He was one of the polystyrene heads on the set of Blockbusters.
He featured in a series of adverts for Lucozade at the time of the 1984 Los Angeles Olympics, to demonstrate that said drink was an excellent energy-booster in competitive athletics.
Web links
Feedback