Dancing on Ice
Host
Phillip Schofield (all series) with Holly Willoughby (2006-11), Coleen Nolan (stand-in for Holly Willoughby, episode 8, series 6), Christine Bleakley (2012-)
Co-hosts
Jayne Torvill and Christopher Dean
Judges:
Robin Cousins
Jason Gardiner (2006-11)
Karen Barber (2006-10)
Nicky Slater (2006-10)
Karen Kresge (2006)
Natalia Bestemianova (2007)
Ruthie Henshall (2008-9)
Emma Bunton (2010-11)

Guest Judges:
Michael Ball (guest judge, 2010)
Angela Rippon (guest judge, 2010)
Head coach:
Karen Barber (2011-)
Announcer:
Marc Silk (2006)
Bob Lawrence (2007-8)
John Sachs (2009-)
Commentator: Tony Gubba
ITV2 coverage (Dancing on Ice: Defrosted) Stephen Mulhern (2006-7)
Other spin-offs:
Dancing on Ice Extra: Andi Peters and Andrea McLean (2006)
Dancing on Ice Exclusive: Ben Shephard (2007)
Dancing on Ice Friday: Ben Shephard and Coleen Nolan (2010)
Broadcast
ITV Studios (previously credited as Granada London / ITV Productions) for ITV1, 14 January 2006 to present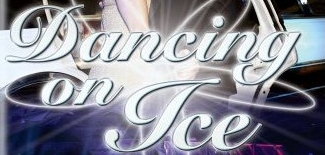 Synopsis
ITV's long-awaited answer to Strictly Come Dancing. A group of (fairly) famous people are tutored in ice dance by Torvill and Dean, and are whittled down week by week until a winner is found.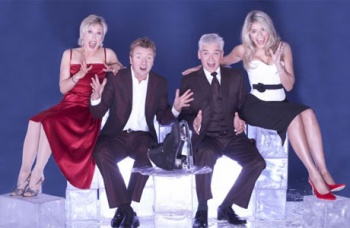 Torvill, Dean, Schofield and Willoughby attempt to express an emotion through mime. If you can work out which one, please let us know at the usual address.
The number of callbacks to S.C.D. is quite breathtaking - almost as if the director's used the same shot list. There's five judges (from 2011, three) instead of four, and the scores (originally out of six, in half-point steps, but now out of ten - still in half-point steps - so that it remains out of 30 overall) are revealed in on-screen style like an ice dancing competition with only a few chats with the judges. The set appears to be a car crash of leftovers from You Bet! and Ice Warriors, although the glass roof is rather nice. One thing it did initially have over SCD was that the practice of only opening phone lines after everyone has performed was clearly fairer than Strictly's then practice of keeping them open all week. It also benefited from the regular inclusion of themed nights (which Strictly didn't go for until 2010) and "required elements" (refined into "ultimate skills" in 2011) which allowed for a specific point of comparison between the celebs.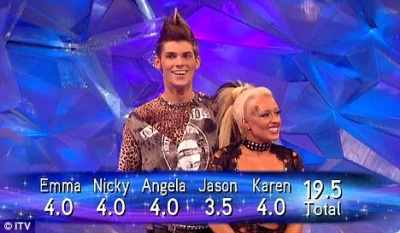 Actor Kieron Richardson and professional skater Brianne Delcourt receive their marks from the judges, including stand-in Angela Rippon.
The strange thing is that despite being just about the most derivative show we have ever seen, and despite the inherent limitations of the ice dance format, somehow (and believe us, we're scratching our heads over how on earth this happened) ITV have pretty much pulled it off. And not "pulled it off" as in "yanked it from the schedules after three weeks", either. It doesn't work as well as Strictly Come Dancing in any department (except perhaps in the choice of host), and it does seem to drag a bit over the course of a series, but nevertheless it works. Just about.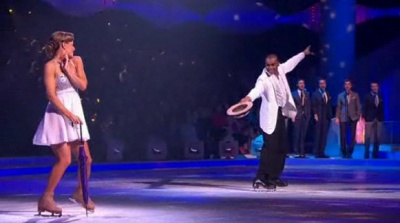 Each series includes a "props week". Here, Johnson Beharry and pro skater Jodeyne Higgins perform with doo-wop group The Overtones providing live vocals.
2011 saw a largely positive series of tweaks to the format. Although the new arrangement of the set is a bit of a puzzler (the judges are now up one end of the rink rather than along the side, which can't be an improvement), the show really upped its game with new "twists" - some not as dramatic as they'd clearly hoped for (the "ice pick", in which the elimination vote was given, Fame Academy-style, to the other skaters rather than the judges, was a particularly damp squib) and some a bit awkward (the group routines were a good idea in principle, but the reward - the members of the winning team had their points doubled - unbalanced the scoring that week in a really rather silly way) but mostly quite sound. In particular, the "Ultimate Skills Test" placed a particular emphasis on technical ability at just the right stage of the contest, and the solo performances in the semifinal were a natural extension of the show's premise. The traditional "flying" element of the final (which always promised more than it delivered) was also wisely dropped in favour of Strictly-style showdances. Not everything works, but overall the changes have definitely given the show a lift. One recommendation we would make for future series though: stop forcing those bits of comic business into the script - the contrast between Phil and Holly's natural hosting and the lines imposed on them by the show's credited writer has become so jarring it's getting embarrassing.
Make Me a Star
Alongside the 2008 series, there was a spin-off called Dancing on Ice: Make Me a Star, hosted by Willoughby alone, in which amateurs competed for the chance to perform in the main series final. The judges were Torvill and Dean themselves and there was no public vote. This secondary competition returned in 2009, but was incorporated into the main Dancing on Ice results show.
Key moments
Torvill and Dean's regular performance at the start of the Saturday (now Sunday) night show. The old magic's still there, so much so that the duo starred in a performance, featuring contestants from the first two series, in October 2007.
Whenever anyone attempts "The Headbanger", a spectacular and scary move in which the male dancer spins around while holding the female dancer by her ankles and lowering her head to within really not enough distance at all from the ice. If that goes wrong, you're in trouble. There's only been one injury from this so far, when David Seaman's partner hit the ice during a camera rehearsal in the first series - amazingly, not during the actual move but by missing her footing on the recovery. She got away quite lightly with a couple of cuts, but we wonder how much of a delay there is on the live transmission, just in case.
Catchphrases
The show hasn't really produced a proper full-blooded catchphrase, but the closest it's got is probably "...to be revealed after the break". Phil also likes to throw in the odd reference to the dancers at the bottom of the leaderboard being "on thin ice" but it's never really developed from a stock phrase into a catchphrase. Must try harder, Schofield. C+.
This doesn't really qualify as a visual catchphrase either, but this is probably as good a place as any to note that we like the way he taps his ear to indicate that he's being given the results through his earpiece, lest we should think that he's either (a) reading off cards being held up in the distance, or (b) telepathic.
Theme music
Theme by Paul Farrer. Hear it at Screened Music.
Trivia
The show's working title was... well actually, over the long period between the show being announced and finally making it to air, there were any number of working titles: The Torvill and Dean Project, Skating with Celebrities, Celebrities Dancing on Ice, Skating on Thin Ice, Celebrities on Thin Ice, Stars on Ice, Ice Dance with the Stars... basically, just about every possible permutation seemed to be attached to the show before they settled on the most boring one. Still, you can't say it doesn't live up to its name.
While Robin Cousins was away in Vancouver, commentating on the 2010 Winter Olympic Games, his place on the ice panel was taken by singer Michael Ball, and then by presenter Angela Rippon.
Champions
2006 Gaynor Faye
2007 Kyran Bracken
2008 Suzanne Shaw
2009 Ray Quinn
2010 Hayley Tamaddon
2011 Sam Attwater
Participants
2006

2007

2008

2009

2010

2011

Web links
See also
Feedback