David Hatch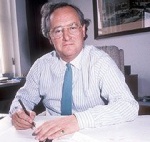 Biography
Cambridge graduate and Footlights comedy performer who appeared in the knockabout sketch show I'm Sorry I'll Read That Again with John Cleese and The Goodies, also producing the later series. He went on to produce and commission many other light entertainment shows including Just a Minute, and became controller of Radios 2 and 4 and later head of BBC Radio.
He died in 2007 after a long illness.
Trivia
Having left the BBC in 1996, he was knighted in 2003 for his work on the Parole Board and other parts of the criminal justice system.
One of Hatch's sons, Ben Hatch, wrote a book entitled 'Are We Nearly There Yet?' (published 2011). It charted a journey all around Britain that he and his wife made with their two young children in order to research tourist attractions for a well-known tourist guidebook. It also covered David Hatch's final illness and death, and the family's reaction to it.
Web links
Feedback