David Jacobs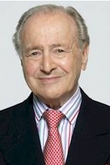 Biography
David Jacobs was a veteran radio DJ, with credits including Pick of The Pops in the late 1950s, and a lengthy spell on Radio 2. He also turned his hand to acting and even had a brief spell as chairman of the political debate show Any Questions?.
He died on 2 September 2013, aged 87.
Trivia
He appeared as himself in a Christmas edition of "Some Mothers Do 'Ave 'Em", in which he was trying (with the inevitable disastrous consequences) to interview Frank Spencer in his (Spencer's) own home.
Web links
Feedback