Denis Norden
Line 27:
Line 27:

Of course in later years his biggest gig was the irregular out-takes showcase ''It'll Be Alright On The Night'', which was usually good for some gameshow-related amusement. Norden did occasionally (and quite rightly, wethinks) show clips of his own on-screen gaffes, as [[Terry Wogan]] also did of his own fluffs on the BBC equivalent, 'Auntie's Bloomers'.

Of course in later years his biggest gig was the irregular out-takes showcase ''It'll Be Alright On The Night'', which was usually good for some gameshow-related amusement. Norden did occasionally (and quite rightly, wethinks) show clips of his own on-screen gaffes, as [[Terry Wogan]] also did of his own fluffs on the BBC equivalent, 'Auntie's Bloomers'.

-

-

== Contact ==

-

-

Whitefields, Dean Bottom, South Darenth, Kent, DA4 9JX

== Web links ==

== Web links ==
---
Revision as of 14:47, 13 March 2019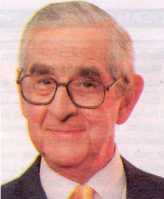 Biography
The man with the most famous (or should we say infamous?) clipboard in television, he first made his name as a comedy writer, often in partnership with Frank Muir.
In 2006, he announced his retirement from television - bringing to an end the phenomenon of an 84-year old getting primetime slots on ITV. He died September 2018, aged 96.
Trivia
Of course in later years his biggest gig was the irregular out-takes showcase It'll Be Alright On The Night, which was usually good for some gameshow-related amusement. Norden did occasionally (and quite rightly, wethinks) show clips of his own on-screen gaffes, as Terry Wogan also did of his own fluffs on the BBC equivalent, 'Auntie's Bloomers'.
Web links
Feedback