Dermot Murnaghan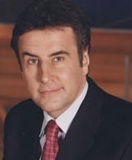 Biography
Devon-born newscaster, formerly best known for launching The Channel 4 Daily, the breakfast news service, part of a long ITN career. Eventually he defected to the BBC which has made more use of him, particularly with presenting roles on the heated-up Treasure Hunt and student teatime favourite Eggheads. Although he still presents Eggheads for the BBC, he has recently followed Eamonn Holmes footsteps to presenting on Sky News.
Trivia
He made a foray into comedy, presenting the 'news sketch show' (choke) The State We're In with talents such as Sharon Horgan, Rhys Thomas and - yes! - Sanjeev Kohli.
Came 3rd in the Most Difficult to Spell Surname of 1997 competition. And on a more actual-fact tip, he was named Interviewer of the Year by the Royal Television Society in 1998.
In 1995, he was signed up to present a business simulation game show for Carlton TV, provisionally titled A Seat on the Board. However as far as we know the show never got made.
Contact
c/o BBC, Television Centre, Wood Lane, W12 7RJ
Or via his management at KBJ Management, 7 Soho Street, London W1D 3DQ
Web links
Feedback