Don't Scream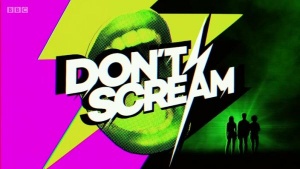 Host
Broadcast
Maverick Television for BBC Three, 16 January 2020
Synopsis
Three best mates go on "the ultimate physical and psychological ride". The BBC Press Office said:
Guided by Yung Filly (from BBC3's Hot Property), the trio will start with £5,000 in prize money. In order to keep it, they complete a night's shift in the workplace from hell - a creepy, disused shopping centre, rigged with shocks, scares and surprises to test even the hardest of the hard. But here's the kicker… every time they scream, they lose £100 from the jackpot.
Don't Scream is a hair-raising experience with only one rule: stay cool to keep the cash.
When we saw it, Don't Scream turned out to have one idea: throw lots of jump scares at its contestants. Some were tailored to their individual fears - the person with claustrophobia and a fear of rats will crawl in a confined space with rats. Some were more typical horror tropes: creatures jumping out of wardrobes, disembodied hands, and lots of clowns.
Yung Filly's narration served to tell us what was planned, and what we'd just seen. Mostly, it broke any mood of horror and suspense. The gameplay and reflections from the contestants build a fearful mood, Mr. Filly undercuts it with jokes, and then we're back in the room. This style choice doesn't really make sense.
Overall, a worthwhile pilot, and the format's flexible enough to make a very short series.
Trivia
This was a horror-themed pilot, put up on the BBC3 website in mid-January. It had the working title of Hush Money.
See also
Feedback