Eurovision Dance Contest
(Add fuller review, and changes for 2008)

Line 4:
Line 4:

''When staged in UK:''

''When staged in UK:''

-

[[Graham Norton]] and [[Claudia Winkleman]] (2007)

+

[[Graham Norton]] and [[Claudia Winkleman]] (2007)

== Co-hosts ==

== Co-hosts ==

Line 12:
Line 12:

== Broadcast ==

== Broadcast ==

-

Splash Media / Sunset + Vine for BBC1, 1 September 2007

+

Splash Media / Sunset + Vine for BBC1, 1 September 2007

</div>

</div>

== Synopsis ==

== Synopsis ==

-

An international competition between professional ballroom dancers, who will perform one ballroom dance, and a "freestyle dance incorporating a national flavour". Viewers are expected to vote by telephone and SMS to determine the winner.

+
+

 

+

competition between dancers , one dance , a dance a national .

+

 

+

and to determine the winner

+

 

+
+

 

+

.

== Web links ==

== Web links ==

Line 39:
Line 47:

[[Category:Variety]]

[[Category:Variety]]

[[Category:Dance]]

[[Category:Dance]]

-

[[Category:Awaiting Review]]
---
Revision as of 18:53, 7 August 2008
Synopsis
It's what happened when Strictly Come Dancing went for a night on the town, hooked up with the Eurovision Song Contest, and both staggered home after a few too many jars.
Eurovision Dance Contest is a competition between dancers representing their countries. The format of the contest is simple: each of the competing countries sends a pair of dancers (one man, one woman). Each couple will dance twice, the first is a formal dance (ballroom or Latin) and the second a free-form dance that somehow reflects the national character of the competing country. This can be as clear as using a traditional Irish or Greek dance, or as weak as flashing the country's flag during the performance.
The contest built from the success of the Strictly Come Dancing format, and the BBC staged the first two events. The 2007 competition took place in a studio at Television Centre, and allowed countries to nominate whoever they wished - the Finnish winners were two professional dancers. As had become traditional at Eurovision events, the viewers were able to determine the winner through televoting and (outside the UK) SMS voting. The scoring system was the traditional 12-10-8-to-1.
2008's event was held at the Scottish Exhibition and Conference Centre near Glasgow, and introduced a rule that only one of the competing couple should be a professional dancer, the other must be known for something else. It's aimed at bringing in national celebrities, tightening the format's links to Strictly.... That year's contest also introduced an international jury, made up of International Dance Sport Federation experts from non-competing countries. Their votes were weighted to the equivalent of four countries.
Unlike the predecessor Eurovision Young Dancers contest, and the Junior Eurovision Song Contest, the BBC found this was a perfect format for Saturday primetime, and the two shows aired on BBC1.
Web links
See also
Pictures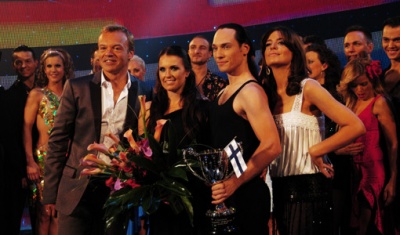 Graham and Claudia with 2007 winners, Katja Koukkula and Jussi Väänänen of Finland
Feedback