First Class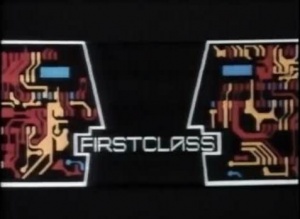 Host
Louise Bachelor (1984)
Debbie Greenwood (1986-88)
Broadcast
BBC Wales, 3 October to 19 December 1984 (12 episodes in 1 series)
BBC1, 8 January 1986 to 21 August 1988 (54 episodes in 4 series + 3 specials)
Synopsis
Hurrah for the Eighties! Dodgy haircuts, BBC microcomputers and compact discs were the order of the day in First Class.
Debbie Greenwood would always introduce the show as First Class - the Video Quiz, already firmly emphasising the white hot tip of technology with which this show sliced. Teams of three children (always a 2nd, 4th and 6th year student, usually wearing school uniform) from two different schools competed in each game.
Rounds included free-for-all buzzer efforts, as well as lots of rounds for each team in turn. These would include pop videos, films or news clips followed by questions.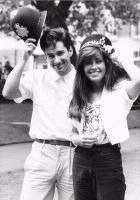 Host Debbie Greenwood, seen here with husband Paul Coia
The 'Spinning Gold Disc' was a particular highlight, where segments of a Compact Disc - a new concept in those days - were removed to reveal a pop star. 'Word of Mouth' was a Hangman game played on the BBC micro where you had to guess a country by revealing certain letters.
But the undisputed thing which sticks in the minds the most were the computer games rounds. Paperboy (now there's a classic), the vault and 110m hurdles rounds (taken from a Track and Field arcade machine behind the scenes) were amongst the games used.
The whole series took the form of a straight knockout tournament. The star prize for the whole series was a BBC micro for your school (!), as well as the honour (and, no doubt, obligation) to play a special extra show against some of the cast of Grange Hill, EastEnders or Blue Peter.
Although very dated now, this was, at the time, an enjoyable show that fitted nicely into BBC1's 5.35 'before the news' slot.
Trivia
The computer which kept the scores was a BBC Micro called Eugene.
Catchphrases
"Eugene - the scores, please!" (Debbie sometimes called Eugene "my little tin friend" at this point).
"Hidden in Eugene's mouth is the name of a river..." (or whatever).
"On your screens now...!"
"Now some music - have a listen to this!"
"You can confer, but answers through your captain, (whoever), please!"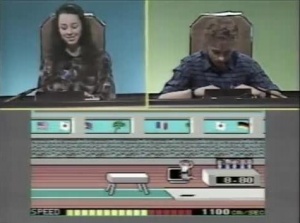 (During the computer games, if a contestant had done well): "...And he's jumping for joy!" - referring to the computerized man, not the contestant.
Theme music
Taken from Platinum by Mike Oldfield. Platinum Part One is the track. Another extract from the same track plays while the scores are shown.
Web links
Sean Blanchflower was a former contestant (aged 12 at the time)
Opening titles from the BBC Motion Graphics Archive
See also
Feedback