Football Genius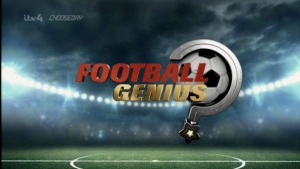 Host
Co-hosts
Team captains: Paul Sinha and Sam Quek
Broadcast
Hat Trick Productions for ITV4, 25 September to 30 October 2018 (6 episodes in 1 series)
Synopsis
A re-incarnation of Quiz Ball for the new century, complete with a virtual football pitch.
Tim Vine hosts, with resident "managers" Paul Sinha from The Chase and Sam Quek from the women's hockey team. Each manager takes charge of a team of five football supporters, all dressed in their team's colours.
Questions are asked to advance the football down the pitch, from defence to midfield, then to attack, and finally a shot on goal. A longer move requires a more difficult question. All the questions are about football.
The managers Sam and Paul can call for Tackle questions, much harder ones, and accompanied by a video clip or a picture. Bizarre own goals, squads with players missing, and Lego re-creations of football moments all feature. Penalties and offsides were also added later in the recording block.
Unlike Quiz Ball, Tim Vine doesn't spend ten minutes explaining the rules. We'll learn what we need to know when we know it. As a result, Football Genius is great fun, the competition is just the right balance of intense and friendly.
Inventor
According to the credits: "Developed by Greg Cruttwell and Nick Osborne, in association with Head Gear Films, with thanks to Phil Hunt".
Trivia
Aired as part of ITV4's "Chooseday" strand of original programmes, alongside Take the Tower and inventions show Made in Britain.
AE Graphics did the virtual football pitch.
Web links
See also
Call Yourself a Fan, a more serious football quiz mixed with topical discussion.
Feedback