Gabby Logan
Line 37:
Line 37:

== Biography ==

== Biography ==

-

Known mainly as a sports presenter, Gabby Logan is the daughter of former Wales football international Terry Yorath and presented the soccer round-up ''On The Ball''. After being sidelined at ITV in favour of BBC old hand Steve Rider, she completed the other half of the transfer exchange in 2006. Now hosts the magazine show ''Inside Sport'', presents live football coverage, and covers ''Match of the Day 2'' when the regular host (originally [[Adrian Chiles]], latterly [[Colin Murray]]) is otherwise occupied.

+

Known mainly as a sports presenter, Gabby Logan is the daughter of former Wales football international Terry Yorath and presented the soccer round-up ''On The Ball''. After being sidelined at ITV in favour of BBC old hand Steve Rider, she completed the other half of the transfer exchange in 2006. the magazine show ''Inside Sport'' football, and the .

== Trivia ==

== Trivia ==
---
Current revision as of 07:33, 30 September 2022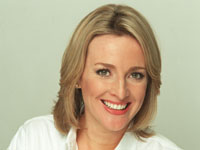 Biography
Known mainly as a sports presenter, Gabby Logan is the daughter of former Wales football international Terry Yorath and presented the soccer round-up On The Ball. After being sidelined at ITV in favour of BBC old hand Steve Rider, she completed the other half of the transfer exchange in 2006. On the Beeb she's hosted the magazine show Inside Sport and is a lead presenter for football, rugby and athletics, as well as the Olympic Games.
Trivia
Appeared as herself in the movie Mike Bassett: England Manager.
She used to present for ITV, but defected to the BBC in December 2006 after being relegated to a secondary hosting role in ITV's coverage of the 2006 World Cup. The final straw came when ITV bosses refused permission for her to appear as a contestant on Strictly Come Dancing because they wanted her to compete in Dancing on Ice instead. She and husband Kenny Logan both competed in the 2007 series of Strictly, and were partnered with husband-and-wife professionals James and Ola Jordan.
Contact
To be completed
Web links
Feedback