Gambit
Host
Fred Dinenage (original host)
Tom O'Connor (1984-85)
Gary Thompson
Co-hosts
Hostess: Michelle Lambourne
Voiceover: John Benson
Organist: Peter Fenn
Broadcast
ITV (Anglia), 1978 to May 1985
Anglia, mid-90s
Synopsis
Memories of this one are a bit vague, but we'll give it a bash.
Couples play what is essentially Television Blackjack. The first card in each game was always revealed before anything happened, others were played for "blind". General knowledge questions are asked, and couples buzz in for the right to either take the top card off the top of the deck or force it into their opponents "hand" (namely, a shelf behind them).
After any card, you could choose to freeze your score, forcing the other couple to keep drawing cards until they either beat your score or went bust.
A match was a best-of-three affair, and cash was won for winning games, matches, and bonuses for scoring exactly 21 (in the mid 90s regional remake, that bonus was a whopping £21).
Key moments
There was always an elaborate cutting a ribbon and cutting the deck ceremony each time a new pack of cards was used.
Top blunder ahoy:
Fred: Which vegetable helps you to see in the dark?

Contestant: A banana.
(He was looking for the answer "carrot", which is a myth anyway. Unless it's one of those genetically-engineered glow-in-the-dark carrots.)
Inventor
Based on the US show of the same name, created by Merrill Heatter and Bob Quigley (who also devised Celebrity Squares).
Trivia
The show suffered for much of its life by being transmitted on different days of the week in different ITV regions - and also from the fact that the time taken to play a match could vary considerably and therefore the show almost always ended mid-way through a game.
David Self, having been brought in to set the questions for Anglia's Sale of the Century, also took on the job of setting them for Gambit in 1981.
Pictures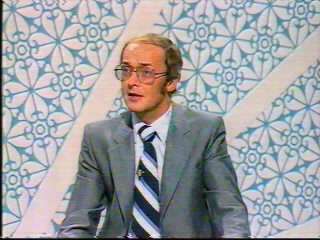 Picture 1
- Host,
Fred Dinenage
.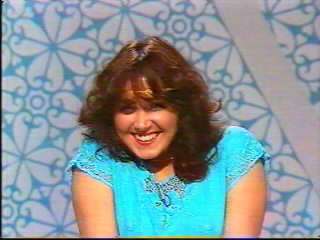 Picture 2
- Gambit's most famous hostess, Michelle Lambourne.
Picture 3
- 24 is too many, they've gone bust.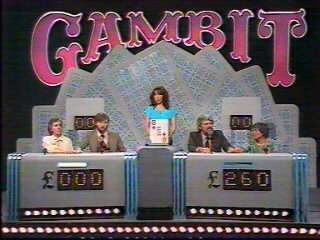 Picture 4
- The Gambit set, the back of which is made out of giant-sized playing cards.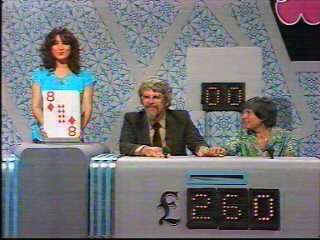 Picture 5
- The couples are competing for an "8".
Feedback