Gameshow Marathon
Line 32:
Line 32:

== Trivia ==

== Trivia ==

-

Perhaps surprisingly, this umbrella format has actually been sold abroad. Granada are to make a version for CBS, using old American game shows.

+

Perhaps surprisingly, this umbrella format has actually been sold abroad. Granada a version for CBS, using old American game shows.

[[Category:Family Game]]

[[Category:Family Game]]
---
Revision as of 16:30, 12 June 2006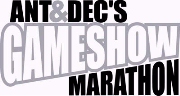 Host
Co-hosts
Announcer: Peter Dickson
Broadcast
Granada London for ITV1, 2005
Synopsis
To mark ITV's 50th anniversary (and also, we suspect, try out various old shows for a potential full-scale revival), Ant & Dec presented this series of one-off revivals during the autumn of 2005.
For more info, please see the pages for the individual shows:
Trivia
Perhaps surprisingly, this umbrella format has actually been sold abroad. Granada have made a version for CBS, using old American game shows, and FreMantle are to make a French version.
Feedback