Gift Wrapped
Line 34:
Line 34:

[[Category:12 Yard Productions]]

[[Category:12 Yard Productions]]

[[Category:Awaiting Review]]

[[Category:Awaiting Review]]

+
---
Revision as of 20:35, 20 January 2016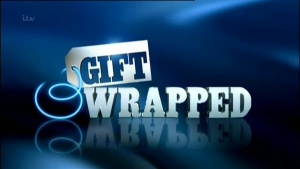 Synopsis
Three couples battle it out in a series of marriage related questions.. The most successful couple will win both a dream holiday and their own personalised wedding gift list.
If you can help us to expand this entry, please provide as much information as possible, using the feedback form below.
Trivia
The show's original title was called The Gift List.
This is the second of two 5:00pm daytime summer fillers for The Chase with the other being The 21st Question. Previous 5:00pm daytime summer fillers have had a poor record so far (apart from Tipping Point) with Don't Blow the Inheritance, which didn't set the world on fire, and Take on the Twisters took on the dumper and lost. We'll have to see if this and The 21st Question can twist its way to success, or if it's a busted flush.
See also
Feedback