Going for a Song
Line 26:
Line 26:

1998-2000: Penny Smith and [[Kit Hesketh-Harvey]]

1998-2000: Penny Smith and [[Kit Hesketh-Harvey]]

-

2001-2: Rachel De Thame and Dr Mark Porter (2001-2)

+

2001-2: Rachel Thameand Dr Mark Porter (2001-2)

== Broadcast ==

== Broadcast ==
---
Revision as of 08:54, 15 December 2008
Host
Max Robertson (original host)
Michael Parkinson (1990s version)
Co-hosts
Original expert: Arthur Negus
1990s version expert: Eric Knowles
1990s team captains:
1995: Tony Slattery and Leslie Ash
1996: Tony Slattery and Helen Lederer (rotation), Mariella Frostrup
1997: Penny Smith and Sheridan Morley
1998-2000: Penny Smith and Kit Hesketh-Harvey
2001-2: Rachel de Thame and Dr Mark Porter (2001-2)
Broadcast
Pilot: BBC1 (South only), 21 April 1965
BBC1, 6 October 1965 to to 16 October 1977
Revival: BBC1, 29 August 1995 to 3 February 2002
Synopsis
In its first incarnation, Arthur Negus soared to fame as the show's resident expert.
However, British law has changed since then and now all antiques game shows are obliged to include the word "Great" or "Going" in the title and feature Eric Knowles as an authority. (OK, except Bargain Hunt. We'll give you that.)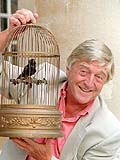 Michael Parkinson, with the famous bird cage which featured in the opening titles of both versions of the programme.
Much discussion of antiques, their properties and values in order to educate people to have a better clue as to the value of the contents of their loft. But the slow experts progress slowly with discursive digression on every single treasure and awarded something like five single points in each show.
Feedback