Gordon Ramsay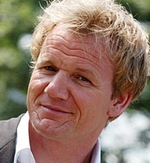 Biography
Hugely BLEEP successful chef, one of only three BLEEP chefs to retain three Michelin stars, and with a flourishing BLEEP media career to boot. His TV shows have included the fly-on-the-wall documentary Boiling Point, the restaurant troubleshooting programme Kitchen Nightmares and BLEEP magazine show The F-Word.
Trivia
Besides his culinary BLEEP skills, he is also BLEEP known for saying BLEEP (not to mention BLEEP and BLEEP) quite a bit - the bloke who operated the BLEEP machine (er, bleep machine) on Hell's Kitchen later claimed that it was the sweariest series ever shown on British TV, with over 4000 uses of the "F" word over two weeks (including the additional shows on ITV2, we assume).
Ramsay played in the Oxford United youth team and completed trials with Glasgow Rangers, before succumbing to a career-ending knee injury.
Although he didn't take part in the second UK series of Hell's Kitchen, he did go on to star in the American version, which as of 2023 is still going strong (with Ramsay still on board). He was also a judge in Masterchef USA, which is based on the more Hell's Kitchen-like Australian version of the format.
Web links
Feedback