Hell's Kitchen
Line 3:
Line 3:

== Host ==

== Host ==

-

[[Angus Deayton]]

+

[[Angus Deayton]]

+

 

+

== Co-hosts ==

== Co-hosts ==
---
Revision as of 14:37, 23 March 2009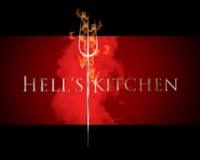 Synopsis
Nine celebrities (and Edwina Currie) work as chefs under the watchful eye (and colourful mouth) of Gordon Ramsay at London's newest restaurant. After two weeks of intense training the celebs/chefs were made to work in the restaurant serving food (well, you could've fooled me...) to B-list celebs dining there.
As per usual in a reality series from ITV nothing happens in the first week, then one celeb gets kicked out each day in the second week until we have three left to contest the final showdown on the last day.
The format did well enough to be worth another run out in 2005, but Ramsay had taken Channel 4's shiny penny and signed an exclusive deal, so Gary Rhodes and Jean-Christophe Novelli led rival teams of amateurs instead. Strangely, Ramsay still hosted several series of Hell's Kitchen as an American format where it did surprisingly well.
In 2007, it was announced that the format was being revived with Marco Pierre White (father figure to Ramsay and Heston Blumenthal) brought back after seven years of retirement to don the white apron once more. In fact, had already been announced in 2006 that show was due to come with Pierre White but it didn't come about. The revival was obviously considered a success by ITV, since in November 2007 they announced that they'd signed up Marco for three years, to include at least one more series of Hell's Kitchen.
Participants
The celebs in the first series were (in reverse order): Roger Cook (journalist), Dwain Chambers (athlete), Tommy Vance (legendary DJ), Belinda Carlisle (musician), Amanda Barrie (actress), Abi Titmuss (presenter [that's being kind...]), Al Murray (comedian), Edwina Currie (former MP), Matt Goss (musician), James Dreyfus (actor) and Jennifer Ellison (actress and singer).
In the third series, the celebs were: Adele Silva (Emmerdale actress), Abigail Clancy (runner-up in Britain's Next Top Model), Rosie Boycott (retired journalist), Kelly LeBrock (model and actress), Anneka Rice (skyrunner), Lee Ryan (ex-Blue singer), Barry McGuigan (ex-boxer), Paul Young (singer and former Celebrity Masterchef semi-finalist), Jim Davidson (comedian), Brian Dowling (Big Brother winner).
Key moments
Series 1 highlights included: Amanda Barrie attempting a right hook at Gordon; the viewers refusing to vote Edwina Currie out until the last moment; restaurant guest Vic "Shooting Stars" Reeves asking for a plate of fried eggs; and the excellent impressions by James Dreyfus of all the contestants and crew.
In series 3, Jim Davidson was asked to leave the show by producers after using the term "shirt lifter" in the presence of Brian Dowling.
Champions
| | |
| --- | --- |
| 2004 | Jennifer Ellison (celebrity series) |
| 2005 | Terry Miller |
| 2007 | Barry McGuigan (celebrity series) |
Theme music
"The Bells of Doom" by Daniel Pemberton, available on his album TVPOPMUZIK
Merchandise
Feedback