How Dare You!
Host
Clive Webb, John Gorman and Floella Benjamin (1984)
Clive Webb, John Gorman and Carrie Gray (1985-87) (and Cheryl Baker from 1985)
Broadcast
Tyne Tees for ITV, 10 April 1984 to 15 July 1987 (54 episodes in 3 series + 1 special)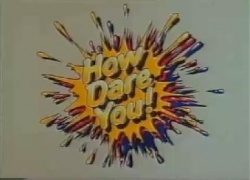 Synopsis
Anarchic kids show. Two teams of kids throw lots of gunge around for twenty five minutes, jeered on by celebrities and ex-stars of Tiswas. In the style of a school sports day, two schools competed for a How Dare You! trophy (A wellington boot) Games included 'Down The Drain', 'Nellyball', 'Hat Catchers' and 'Teach 'em a lesson'. The games were padded out by sketches and jokes performed by the presenters.
The games were often incredibly silly and in a Tiswas fashion, John and Clive would gunge contestants for any unfair reason they could invent up.
According to the TV Times, it was 'Britain's messiest game show'. We'll think about that.
Theme music
The theme tune to How Dare You was a re-recorded version of Five Star's Stay Out of My Life and appeared as a B-Side on their #9 hit in 1987. It was called just How Dare You and both tracks were written by lead singer Denise (Deniece) Pearson.

Opening titles
Web links
Pictures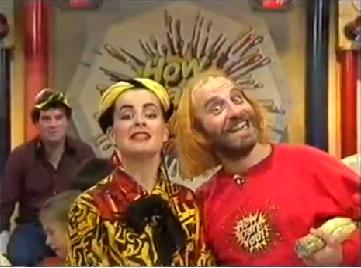 A very young Carrie Grant and Clive Webb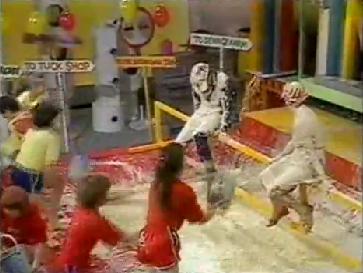 A game called 'Teach 'em a lesson', Two teachers from each school sat above a pool of gunge while kids hurled buckets of gunge at them for 60 seconds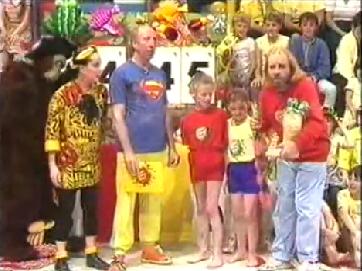 Handing out the prizes, a How Dare You! trophy
Feedback