Humphrey Lyttelton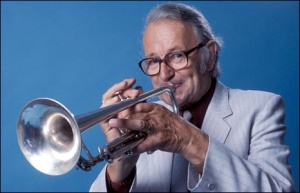 Biography
Veteran trad-jazz trumpeter and brilliantly deadpan chairman of ISIHAC, Humphrey Lyttelton was born on 23 May 1921 in Eton, where his father was a master at the famous public school. Humphrey would go on to attend the school himself and it was there that he formed his first band.
After leaving school, he worked for a time in the steel plate works in Port Talbot before being called up for war service in the Grenadier Guards. After being demobbed, he went to art college and went on to become a cartoonist for the Daily Mail. He quit in 1956 as his musical career was by then taking off, and he remained a leading figure in British jazz for over half a century - both playing (he still had a hectic touring schedule even in his eighties) and as presenter of Radio 2's Best of Jazz programme, which he hosted from 1967 until 2008.
Humphrey Lyttelton died following surgery for an aortic aneurysm on 25 April 2008.
Trivia
At the time of his death, he was the oldest serving game show host, being two and a half years older than Nicholas Parsons (who later overtook him).
He was the president of the Society for Italic Handwriting.
Played trumpet on a 2001 album track, Life in a Glasshouse, for Radiohead.
Web links
Biography from Calligraph Records
See also
Feedback