I'm Sorry I Haven't a Clue
Line 24:
Line 24:

BBC Radio 4, 11 April 1972 to present (353 programmes in 50 series, plus at least 14 annual compilations, 9 Christmas specials, and seven other specials.)

BBC Radio 4, 11 April 1972 to present (353 programmes in 50 series, plus at least 14 annual compilations, 9 Christmas specials, and seven other specials.)

-

BBC Four, 13 September 2008 (filmed recording of stage show)

+

BBC Four, 13 September 2008 (filmed recording of stage show)

</div>

</div>
---
Revision as of 00:23, 20 September 2008
Host
Barry Cryer or Humphrey Lyttelton (alternating, 1972)
Humphrey Lyttelton (1973-2007)
Not yet known (2009)
Co-hosts
Regular panellists: Barry Cryer, Tim Brooke-Taylor, Graeme Garden (1972-present)
Willie Rushton (1973-1996)
Pianist: Dave Lee (1972-1973 or 74), Colin Sell (1974 or 75-present).
Other panellists (in order of first appearance): Jo Kendall, Bill Oddie, John Cleese, John Junkin, Jonathon Lynn, Denise Coffey, Mike Harding, Kenny Everett, Bill Tidy, Stephen Fry, Paul Merton, Tony Hawks, Jeremy Hardy, Sandi Toksvig, Fred MacAulay, Max Boyce, Phill Jupitus, Andy Hamilton, Neil Mullarkey, Linda Smith, Bill Bailey, Harry Hill, Ross Noble, Jack Dee, Rob Brydon.
Stand-in pianists: David Firman, Neil Innes, Denis King, Matthew Scott
Broadcast
BBC Radio 4, 11 April 1972 to present (353 programmes in 50 series, plus at least 14 annual compilations, 9 Christmas specials, and seven other specials.)
Random Entertainment for BBC Four, 13 September 2008 (filmed recording of stage show)
Synopsis
Billed as "the antidote to panel games", ISIHAC (as its lazier fans call it) has become a radio institution.
Originally devised as a way for the cast of the sketch show I'm Sorry I'll Read That Again to show off their comic talents without having to go through all that time-consuming business of writing and rehearsing beforehand, ISIHAC has stood outside the whims of fashion for more than thirty years and has become the longest-running improvisational comedy show on the radio. Or anywhere else, for that matter.
The original panellists were ISIRTA regulars Tim Brooke-Taylor, Graeme Garden, Bill Oddie and Jo Kendall, with Humphrey Lyttelton and Barry Cryer alternating as chairman. Kendall left after one series, whereupon Cryer took up a permanent place on the panel and Humph became full-time chairman. The classic line-up was completed shortly afterwards, when Oddie left to be replaced by Willie Rushton. There were occasional substitutions over the years when one of the regulars was otherwise engaged (John Cleese was a frequent stand-in in the early years, and later Bill Tidy) but essentially the line-up remained unchanged until the sudden death of Rushton in 1996, since when it's usually been the three regulars plus guest.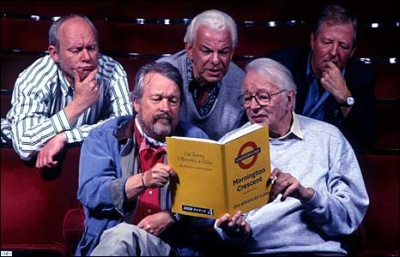 The classic line-up brush up on the rules of Mornington Crescent (vol. 17)
The players are given, as the end credits put it, "silly things to do". Among the classic games are Cheddar Gorge (basically the old kids' game of adding words to a sentence one at a time), One Song To The Tune Of Another (the very first game ever played on the programme, and pretty self-explanatory; one of the series' running jokes is Humph's needlessly complicated explanations of this game), Limericks (again, pretty easy to grasp), Sound Charades (charades using, er, sound - generally involving a pun on the title to be guessed) and Mornington Crescent (a supposedly tactical - but actually nonsense - game which has spun-off into at least two books and a spoof documentary).
Overseeing all this was Humphrey Lyttelton. Apparently chosen because of some half-baked notion about the game being "like jazz" (no, us neither), his weary, yet impeccably timed, delivery was certainly one of the best things about the show. He had his own set of running gags - mock letters from a "Mrs Trellis of North Wales", frequent insinuations that the show's (excellent) pianist, Colin Sell, is actually rubbish, and references to "our lovely scorer, Samantha", with ever more contrived double-entendres about what she gets up to during the games. (Legend has it that some of Radio 4's less well-attuned listeners have been known to write in complaining about the treatment supposedly handed out to the - obviously - non-existent young lady. Who'd be in her fifties by now, anyway.)
After the very sad death of one of the world's oldest ever game show hosts to die in active service, the programme took a year out to pay tribute to the legend that was Lyttelton. After some navel gazing and soul searching, it was decided that the programme will return in Spring or Summer 2009.
Catchphrases
"I have a letter from a Mrs. Trellis of North Wales..." (and variations)
"The title is now going up on the laser display board for the audience, and here's the mystery voice for the listeners at home"
"____ is a fine city with a fascinating history."
Inventor
Graeme Garden and Bill Oddie, with input from BBC radio entertainment supremo David Hatch
Trivia
The "mystery voice" which provides the Sound Charades answer to listeners at home is a reference to an earlier "mystery voice" (actually Norman Hackforth) who appeared on Twenty Questions.
John Cleese once expressed his irritation at losing by pouring his glass of water over the microphone. The live audience loved it, but the joke was lost on those at home.
Humphrey Lyttelton's "buzzer" (more of a toot than a buzz) is a car horn with a light bulb on the end of it. It disappeared during a recording in 2002 and he had to replace it.
According to show producer John Naismith, Granada made a cheap (non-broadcast) pilot for television in the early 1990s which was generally well received. However, the then head of ITV, Vernon Lawrence, wanted a younger face in the line up and nothing further became of it.
At recordings, "Samantha" is represented by an empty chair on Lyttelton's left hand side, hence the ironic wolf whistles offered up by the audience.
Mornington Crescent debuted in 1978, when Geoffrey Perkins took over the producer's chair. Samantha first handled the teams' points in 1985, and Mrs. Trellis has been in correspondence since 1990.
In addition to the regular series, half-hour Christmas specials were broadcast in the following years: 1979-81, 1986, 1992, 1993, 1995, 1999, and 2001. The year's best (or least-worst) moments were rounded up in compilation programmes in 1973, 1987, 1992, 1994, 1996-8, 2000, and 2002-7. Seven additional specials were also made:
Everyman's Guide to Mornington Crescent: The History, 19 July 1986
A Tribute to Willie Rushton, 31 May 1997
30th Anniversary, 13 April 2002
I'm Sorry I Haven't A Christmas Carol, Christmas Day 2003
Edinburgh Fringe Special, 4 September 2005
In Search of Mornington Crescent (hosted by Andrew Marr), Christmas Eve 2005
Humph in Wonderland, Christmas Day 2007
A second edition of Everyman's Guide to Mornington Crescent: The Rules, was billed in the Radio Times for 26 July 1986. It was not broadcast.
Theme music
The wonky brass number with military overtones is called The Shickel Shamble, composed by Ron Goodwin (with a bit by Hadyn). It originally hails from the 1969 film Monte Carlo or Bust!
Web links
BBC site about the show's history
See also
Feedback