Jedward's Big Adventure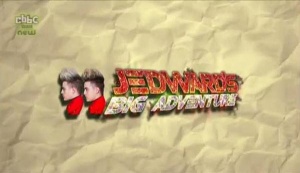 Host
Co-hosts
Jim Howick (voiceover)
Broadcast
Initial for CBBC, 6 February 2012 to 31 January 2014 (20 episodes in 3 series)
Synopsis
With one eye to their future career options, John and Edward Grimes try their hands at being a tour guide. They're given a professionally-guided tour around some of Britain's most interesting historic sites. Joined by celebrity guests, the duo lead a collection of tourists around the same place. Whichever twin imparted the least knowledge will suffer a forfeit.
If you can help us to expand this entry, please provide as much information as possible, using the feedback form below.
Trivia
The brothers are, apparently, experts on the Tower of London, Blaenavon ironworks, the Jurassic Coast, Edinburgh, and Vindolanda. In the second series, they showed expertise in Orkney, Cheddar Gorge, Greenwich, Duxford, and the Thames. That's "expert" in the sense of "they guided tourists around these places".
Web links
See also
Feedback