John Julius Norwich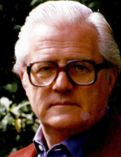 Biography
John Julius Cooper, the second Viscount Norwich, was born in 1929. After some years in the Foreign Service, he became an author, and wrote a number of travel and history books. He has presented many television and radio documentaries over the years, and presented the Classic FM Evening Concert for much of the 1990s.
He passed away on 1 June 2018, aged 88.
Trivia
He is first cousin once removed of Adam Hart-Davis. His parents were the diplomat Alfred Duff Cooper and aristocrat Lady Diana Cooper.
Contact
Knight Ayton Management, 114 St. Martin's Lane, London, WC2N 4BE
Feedback