John P. Wynn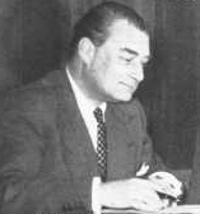 Shows
As creator and/or question-setter:
Biography
Serial quiz devisor and question-setter.
Born Hans Priwin, he began his career as a journalist and broadcaster in his native Germany, but after the Nazis came to power a Jewish journalist could no longer get work in Berlin and he moved to Britain, where he quickly made an impact with his Inspector Hornleigh detective stories, and also began contributing puzzles to the radio variety show Band Waggon.
After the war, he anglicized his name to John P Wynn and married radio producer Joan Clark. Wynn and Clark would work together on an array of programmes, most significantly What Do You Know? which eventually blossomed into Brain of Britain as well as giving rise to various spin-offs.
He and Clark retired to Ireland in 1972, though he continued to contribute questions to Brain until his death in 1978.
Feedback