Jonathan Coleman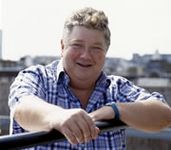 Biography
Australian DJ of varying spherical radius who presented Heart FM's breakfast show for many a year, the chief rival to Chris Tarrant on Capital Radio. In January 2005, it was announced that Jamie Theakston would take over Jono's slot. Coleman went over to BBC London instead, but left Britain in 2007 to return home to look after his elderly mother, and spent the remainder of his career in Australia. What a smashing bloke, as was once or twice said on Banzai.
He died of prostate cancer on 9 July 2021, aged 65.
Trivia
He was actually born in Hackney, London, but worked in Australia for most of his early years, including presenting a Gong Show-style talent contest called Have a Go for the 7 Network.
Books / Tapes
Get It Off with Jono Coleman: Jono's 347.5 Top Weight-loss Tips
Contact
John Noel Management, 10a Belmont Street, London NW1 8HH.
Web links
Feedback