Karaoke Challenge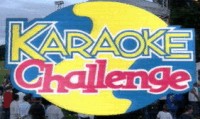 Synopsis
In the days when the Family Channel had "gone legit" and become a proper game show-themed channel, as opposed to a family channel that just happened to play game shows all day, it's evident that they didn't really have a lot of money to splurge.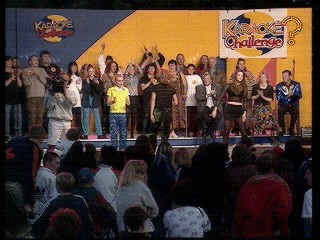 The stage set of Karaoke Challenge
How do we know this? The answer, my friends, is Karaoke Challenge, a concept that surely came five years too late to cash in on any sort of topicality.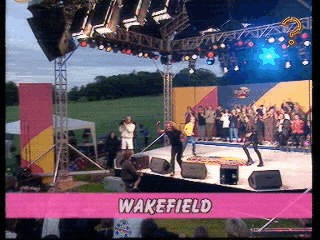 "I can't hear you, Wakefield!"
An indifferent crowd of literally tens look on while a host of "I used to be famous once, don't you know" proportions tries to whip up any form of enthusiasm and sing the opening song. Most of the hosts managed to do this quite well, with the possible exception of Yvette Fielding, who had the distinct disadvantage of not being able to sing. At all.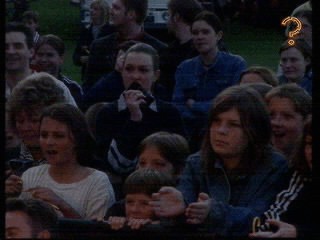 The frenzied audience
Four sets of four people "sing" a quarter of a pop song each in the usual empty orchestra style. A panel consisting of a fairly well known celeb (one of the Nolan sisters, sometimes even Richard Whiteley), a comedian, a local DJ (presumably to get the crowd on their side) and Question Mark (Challenge TV's original mascot) decide who goes through to the final playoff.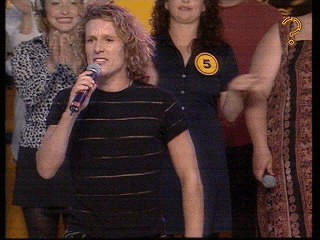 Jonathan Morris does his best to make light of the situation. Bless.
Winner gets a reasonably swish karaoke machine and - get this - a gold medallion. Only really worth watching for one of the hostesses who we fancied big time. Other than that, its current scheduling slot at 3.30 in the morning seems generous.
Key moments
The production values of the show shone through when host Ted Robbins (he of former Chain Letters fame) was noted in the show's credits as Ted Rogers (see 3-2-1). And even Rogers was spelled "Rodgers". Oh dearrr...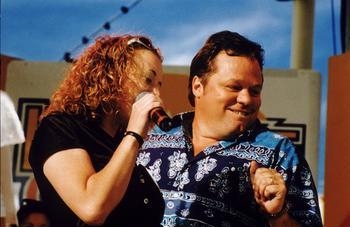 Ted Rogers, ah, er... no
Inventor
The nation of Japan - blame them.
Web links
Pictures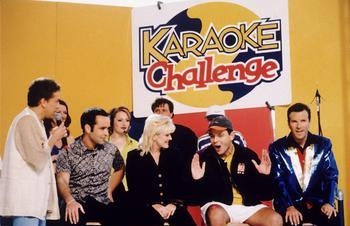 Ross King gets the verdict from the panel, including Question Mark on the far right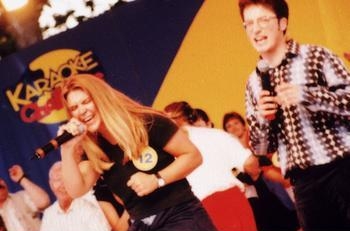 Contestant 12 gives it her all as Rick Adams looks on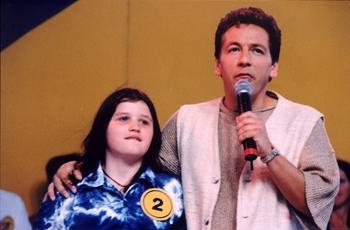 Karaoke Challenge. Guaranteed to put a smile on your face.
Feedback