Lingo
Line 35:
Line 35:

The top prize was £3,200 plus whatever the couple won in the main game, making it possibly the highest cash prize on network television at the time, although this was no doubt superseded by the jackpot on [[Wheel of Fortune]], which started soon after.

The top prize was £3,200 plus whatever the couple won in the main game, making it possibly the highest cash prize on network television at the time, although this was no doubt superseded by the jackpot on [[Wheel of Fortune]], which started soon after.

-

Surprisingly, this aired a new series at the start of 2021 with Adil Ray in charge, but with all the Bingo stuff expunged, and in the then-[[Tenable]] slot. As a ''Tenable'' replacement this was alright, though it came a few weeks after the first series of [[Winning Combination]] which was much faster in comparison, and thus bored.

+

Surprisingly, this aired a new series at the start of 2021 with Adil Ray in charge, but with all the Bingo stuff expunged, and in the slot. As a ''Tenable'' replacement this was alright, though it came a few weeks after the first series of [[Winning Combination]] which was much faster in comparison, and thus bored.

== Catchphrases ==

== Catchphrases ==
---
Revision as of 21:54, 9 January 2021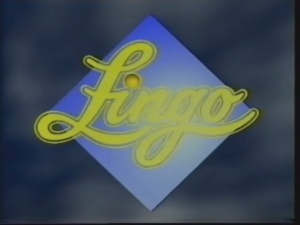 Host
Martin Walker (1987)
Martin Daniels (1988)
Adil Ray (2021-)
Co-hosts
Announcer: Nick Jackson
Broadcast
Central (regional), 1987
Thames in association with Ralph Andrews Presentations and Action Time for ITV, 12 May to 14 July 1988 (10 episodes in 1 series)
Wildcard Television for ITV, 1 January 2021 to present
Synopsis
A mixture of Bingo and Scrabble, two teams of two players attempted to find five letter words using a Mastermind sort of system (the board game thing, not the one with the Black Chair). If they did it, they could draw balls from their table which would get crossed off their board and if they made a line they would get mega points. Then they would start again. They also had to avoid picking a "Dreaded Red" ball which automatically handed control over to their opponents.
After the break and just before the end game, Daniels would usually go up to someone in the audience and give that person five chances to try to find the five-letter word in question: if successful, he/she would win a cash prize.
The end game was played in reverse, the winning team had to guess words but the longer they took, the more balls they would have to draw with a view to NOT making a line. There would be one line that needed only one number to complete it, and the host would hold onto the corresponding ball for the first round, but after that, it would have to go in with the other balls - and Daniels was always keen to encourage the contestants to mix the balls around so that they wouldn't pull out said ball any too easily. The contestants could choose whether or not to play another round - if they were unlucky enough to complete a line, they would go home with half their previous winnings. There was a silver ball in this round that did something amazing too, if memory serves.
The top prize was £3,200 plus whatever the couple won in the main game, making it possibly the highest cash prize on network television at the time, although this was no doubt superseded by the jackpot on Wheel of Fortune, which started soon after.
Surprisingly, this aired a new series at the start of 2021 with Adil Ray in charge, but with all the Bingo stuff expunged, and in the 3pm slot. As a Tenable replacement this was alright, though it came a few weeks after the first series of Winning Combination which was much faster in comparison, and thus bored.
Catchphrases
"It's a Lingo!"
(Just before the end game, when the board had been partially filled): "That's not as generous as you might think, because in this part of the game, the aim is to avoid a Lingo line!"
"...But don't you worry about Number (whichever number the contestants needed to avoid) for now, because...it's in my pocket!"
"Not on the board!"
"It's there, but it didn't complete a line!"
Inventor
Devised by Harry de Winter.
Web links
Videos

Part 1 of the final episode.
Feedback