Lingo
(→New century, new lingo: add)

Line 65:
Line 65:

</div>

</div>

-

The problem is, guessing words involves a certain amount of luck anyway (one poor pair got HO*E on their first guess but guessed five different valid words to HOPE and as such lost the money); played seriously, it simply didn't work.

+

The problem is, guessing words involves a certain amount of luck anyway (one poor pair got HO*E on their first guess but guessed five different valid words to HOPE and as such lost the money); played seriously, it simply didn't work.

As a replacement in [[Tenable]]'s slot this was alright, if a bit monotonous, being word puzzle after word puzzle. Compare with Channel 4's [[Countdown]], which has numbers games and entertaining anecdotes to add some variety. ''Lingo'' came a few weeks after the first series of [[Winning Combination]], a much faster game in comparison.

As a replacement in [[Tenable]]'s slot this was alright, if a bit monotonous, being word puzzle after word puzzle. Compare with Channel 4's [[Countdown]], which has numbers games and entertaining anecdotes to add some variety. ''Lingo'' came a few weeks after the first series of [[Winning Combination]], a much faster game in comparison.

+
+

== Catchphrases ==

== Catchphrases ==
---
Revision as of 15:23, 23 November 2021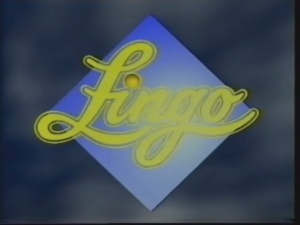 Host
Martin Walker (1987)
Martin Daniels (1988)
Adil Ray (2021-)
Co-hosts
Announcer: Nick Jackson (1988)
Broadcast
Central (regional), 1987
Thames in association with Ralph Andrews Presentations and Action Time for ITV, 12 May to 14 July 1988 (10 episodes in 1 series)
Objective Media Group North for ITV, 1 January 2021 to present
Synopsis
A mixture of Bingo and Scrabble, two teams of two players attempted to find five letter words using a Mastermind sort of system (the board game thing, not the one with the Black Chair). If they did it, they could draw balls from their table which would get crossed off their board and if they made a line they would get mega points. Then they would start again. They also had to avoid picking a "Dreaded Red" ball which automatically handed control over to their opponents.
After the break and just before the end game, Daniels would usually go up to someone in the audience and give that person five chances to try to find the five-letter word in question: if successful, he/she would win a cash prize.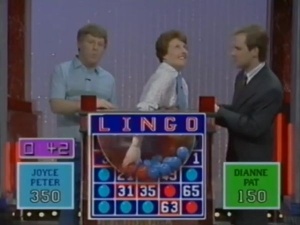 Time to get searching.
The end game was played in reverse, the winning team had to guess words but the longer they took, the more balls they would have to draw with a view to NOT making a line. There would be one line that needed only one number to complete it, and the host would hold onto the corresponding ball for the first round, but after that, it would have to go in with the other balls - and Daniels was always keen to encourage the contestants to mix the balls around so that they wouldn't pull out said ball any too easily. The contestants could choose whether or not to play another round - if they were unlucky enough to complete a line, they would go home with half their previous winnings. There was a silver ball in this round that did something amazing too, if memory serves.
The top prize was £3,200 plus whatever the couple won in the main game, making it possibly the highest cash prize on network television at the time, although this was no doubt superseded by the jackpot on Wheel of Fortune, which started soon after.
BIIIIIIIIIIIIIG MONEY!!!
New century, new lingo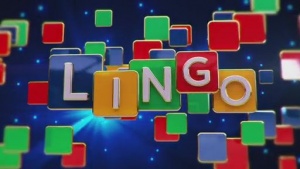 Lingo came back at the start of 2021 with Adil Ray in charge, but with all the bingo stuff surgically removed. It's now a daytime show, airing at 3pm.
Three teams play, and the game is to guess words. Three words of four letters for £200, then a ten-letter word for a prize of up to £300. Then come three words of five letters for £400, and an eleven-letter word for up to £500. (All of these "puzzle words" reduce with each additional letter placed.)
The bottom pair is eliminated, and the last two teams go head-to-head for more words, worth up to £500 (but reducing £50 for each guess), and twelve-letter puzzle words. Losing teams go home with thanks, and no money, and no consolation prize.
The winning team has a final sprint for the money they've won. Solve a four-letter word in 90 seconds for half the money, add a five-letter word for all the money, and add a six-letter word to double it. The daily prize can easily top £6000, somewhat more than Martin Daniels gave away in primetime a few decades earlier.
The problem is, guessing words involves a certain amount of luck anyway (one poor pair in the first series got HO*E on their first guess but guessed five different valid words to HOPE and as such lost the money); played seriously, it simply didn't work.
As a replacement in Tenable's slot this was alright, if a bit monotonous, being word puzzle after word puzzle. Compare with Channel 4's Countdown, which has numbers games and entertaining anecdotes to add some variety. Lingo came a few weeks after the first series of Winning Combination, a much faster game in comparison.
Possibly to futureproof themselves against running out of common twelve letter words, the second series posed nine, ten and eleven letter puzzlewords instead of the first series' ten, eleven and twelve.
Catchphrases
"It's a Lingo!"
(Just before the end game, when the board had been partially filled): "That's not as generous as you might think, because in this part of the game, the aim is to avoid a Lingo line!"
"...But don't you worry about Number (whichever number the contestants needed to avoid) for now, because...it's in my pocket!"
"Not on the board!"
"It's there, but it didn't complete a line!"
Inventor
Devised by Harry de Winter.
Trivia
It's fair to say ITV were quite confident about the revival of this show; they aired the first episode at 4.35pm on New Years' Day, a Friday, after Tipping Point. The rest of the series went out at 3pm, before Ben and the coin pusher - but straight after Countdown on Channel 4.
Lingo secured great ratings during the lockdown in early 2021, ITV said its 2 million viewers was the biggest figure at 3pm since comparable ratings began in 2002.
The episode due to be broadcast on 20 January 2021 was delayed to 11 February 2021 so ITV could show extended coverage of the US presidential inaugration (in particular, so they could get on air at 3.30, the same time as the BBC).
Web links
See also
Weaver's Week looked at Lingo in the round, from its origins in the 1980s through great success on Dutch television, and its return in the 2020s.
The puzzle word from earlier? It's "young", the only common word to fit the clues.
Videos

Part 1 of the final episode from 1988.
Feedback